US President Donald Trump may be bombarded with criticism for his policies, but it is not the same with his youngest son Barron Trump. After being defended from cyber bullies by Hilary Clinton's daughter Chelsea, the youngest son of President Trump found more support from Monica Lewinsky.
Lewinsky's support comes after Barron was ridiculed by internet bullies during Friday's (20 January) presidential inauguration.
The former White house intern shared a Bustle article which narrated the alarming cyber bullying trend in the US. "All children need to be protected from bullying + mockery. (incl #barrontrump). Let's be better than this," she tweeted.
Lewinsky is an active anti-bullying activist, who calls herself "patient zero" of online harassment, which she underwent soon after her affair with the then US president Bill Clinton went public. In March 2015, she delivered a TED talk and appealed for a more compassionate Internet.
Recently, Barron Trump received huge support after SNL writer Katie Rich called him a 'homeschool shooter'. She later retracted from her statement and offered a public apology calling her actions inexcusable.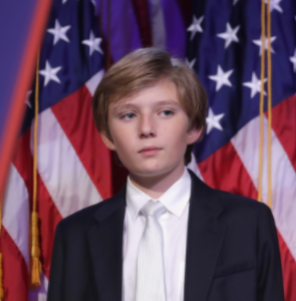 "I sincerely apologize for the insensitive tweet. I deeply regret my actions and offensive words. It was inexcusable and I am sorry," Rich, who is now suspended from Saturday Night Live wrote.
Barron was previously mocked as autistic for his expressionless appearance during Donald Trump's address to the nation after he was declared the winner in the presidential election. Chelsea, who has experienced the heat of being the President's child, offered her support for the youngest trump child as urged people to keep him off limit from politics.
Unfazed by the entire controversies surrounding him, Barron managed to win hearts by his innocent peek-a-boo time with baby nephew Theodor.