Images of the successor to the Lumia Denim update, codenamed Lumia Emerald, have surfaced.
Last month, Microsoft announced the latest update to Lumia Cyan, Lumia Denim, will combine enhancements from Windows Phone 8.1 Update 1 and exclusive Lumia smartphone experiences.
While Lumia Denim, which is pre-loaded on Lumia 830, Lumia 730 dual-SIM and Lumia 735 smartphones, is not available for other Lumia smartphones expected out this year, rumours are swirling that new Lumia firmware is under development.
WMPU has shared a screenshot, which shows the name of the next Windows Phone update, expected along with Windows Phone 8.1 Update 2 or GDR2, as "Lumia Emerald". The report further claims the screenshot to be genuine.
What can be noticed in the screenshot are some changes to the extras+info page with SpamFilter version bumped to 2.0.0.0. Besides, it shows the Lumia Emerald firmware is running on Lumia 830, Nokia's affordable flagship smartphone.
Meanwhile, screenshots with the Lumia Emerald firmware have also appeared on Vietnamese and Chinese sites.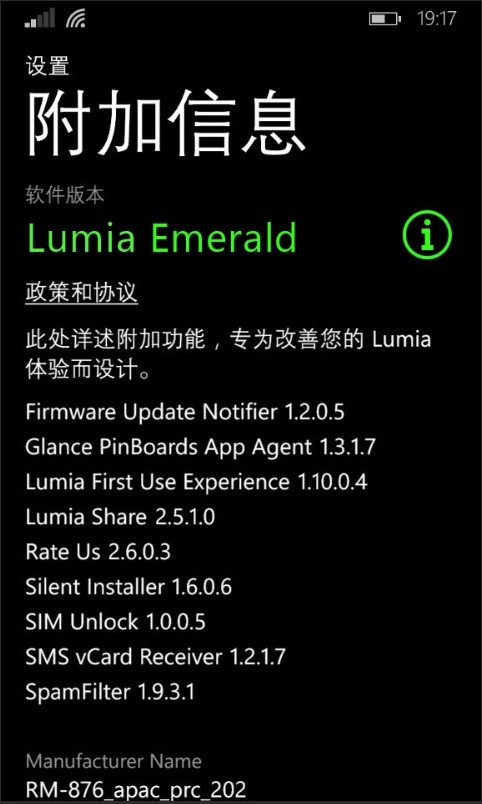 Lumia firmware naming
Nokia started the Lumia firmware names starting with the letter A which stands for Amber, then B for Black; C represents Cyan and now D for the current version Denim. Accordingly, E should be next in order for the update, hinting at the name Lumia Emerald.
When will Lumia Emerald come?
The Windows Phone 8.1 Update 2 also known as GDR2 will be released for devices on Preview for Developers programme in October and the Lumia Denim update is expected in early November.
As for the Lumia Emerald, the update is likely to be released during January-February 2015, reports NokiaPowerUser, when the Windows 10 Developer Preview rolls out for Windows Phone (Developer Preview devices).