Road closures, busier tube stations and changes to bus services are to hit London this weekend as the capital hosts its first ever large-scale light festival.
Lumiere London 2016 kicked off on Thursday (14 January) and will run until Sunday, with attractions at some 30 locations across the city. The free festival is expected to bring large crowds with the busiest areas likely to be around King's Cross and the West End.
Transport for London (TfL) is warning drivers of road closures and advising motorists travel before 4.30pm and avoid central London after this time. Some roads will be closed up until 20 January as art installations are dismantled.
The festival will also see bus services affected will all journeys through Zone 1 expected to take longer, especially around Oxford Circus, Piccadilly Circus and Trafalgar Square. Some may terminate early or be diverted and bus journeys outside of Zone 1 could also be affected. Bus stops in West End and the surrounding area will be temporarily relocated or suspended.
Maps of road closures and traffic warnings, as well as a full list of bus services affected, can be found below. For more information and updates, visit the TfL website.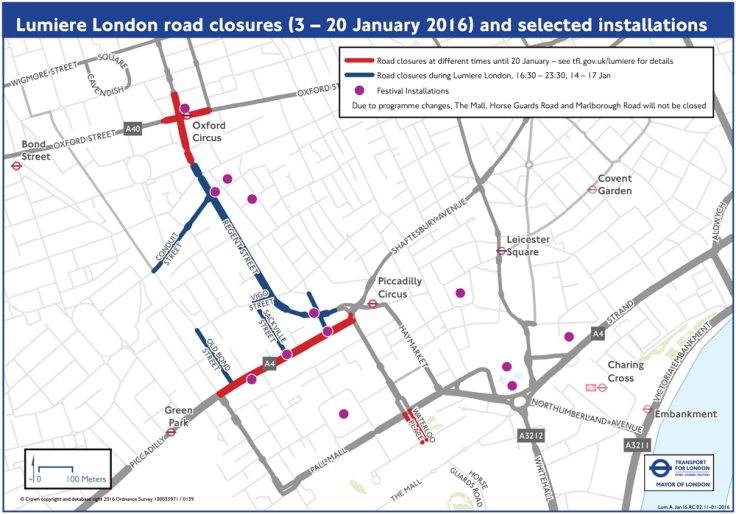 Road closures during the festival
During the festival, from 14 to 17 January, the following roads will be closed between 4.30pm and 11:30pm:
Air Street: between Piccadilly and Glasshouse Street
Beak Street: between Upper John Street and Regent Street
Conduit Street: between Berkley Square and Regent Street
Old Bond Street: between Strafford Street and Piccadilly
Oxford Street: between Orchard Street and Great Portland Street
Piccadilly: between Piccadilly Circus and St James Street
Regent Street: between Mortimer Street and Piccadilly Circus
Sackville Street: between Vigo Street and Piccadilly
Vigo Street: between Savile Row and Regent Street
Waterloo Place: between Carton House Terrace and Pall Mall
The affected bus routes between 14 and 17 January
3: terminates at Piccadilly Circus from the south, from 17:00 until Regent Street reopens
6: terminates at Marble Arch from the north, from 16:30 until Oxford Street reopens
7: terminates at Marble Arch from the north, from 17:00 until Oxford Street reopens
8: terminates at Tottenham Court Road, St Giles High Street from the east, from 17:00 until Oxford Street reopens
10: eastbound services towards St Pancras from Oxford Street will be diverted at Holles Street via Cavendish Square. Westbound services from Oxford Street will be diverted via Great Portland Street
12: terminates at Piccadilly Circus from the south, from 16:30 until Regent Street reopens
13: terminates at Marble Arch from the north, from 16:30 until Oxford Circus reopens
14: eastbound services towards Warren Street from Piccadilly will be diverted at St James's Street via Pall Mall, Regent Street St James's onto Shaftesbury Avenue. Westbound services towards Putney Heath from Shaftesbury Avenue will be diverted via Great Windmill Street, Haymarket onto Piccadilly
19: eastbound services towards Finsbury Park from Piccadilly will be diverted at St James's Street via Pall Mall, Regent Street St James's onto Shaftesbury Avenue. Westbound services towards Battersea Bridge from Shaftesbury Avenue will be diverted via Great Windmill Street, Haymarket, Pall Mall, St James's Street onto Piccadilly
22: terminates at Green Park from the west, from 17:00 until Piccadilly reopens
23: northbound services towards Westbourne Park from Pall Mall at Regent Street St James's will be diverted via Pall Mall, St James's Street, Piccadilly, Duke of Wellington Place, Grosvenor Place, Hyde Park Corner, Park Lane onto Cumberland Gate. Southbound services towards Liverpool Street from Marble Arch will be diverted at Park Lane via Piccadilly onto Piccadilly Circus
25: terminates at Tottenham Court Road, St Giles High Street from the east, from 17:00 until Oxford Street reopens
38: northbound services towards Hackney Wick from Piccadilly at St James's Street will be diverted at Pall Mall, Regent Street St James's and Shaftesbury Avenue. Southbound services towards Marble Arch onto Shaftesbury Avenue will be diverted at Great Windmill Street via Haymarket, Pall Mall, St James's Street and Piccadilly
55: terminates at Tottenham Court Road, St Giles High Street from the east, from 17:00 until Oxford Street reopens
73: eastbound services towards Stoke Newington from Oxford Street will be diverted at Holles Street via Cavendish Square, Cavendish Place, Regent Street, Mortimer Street, Great Portland Street onto Oxford Street. Westbound services towards Victoria from Oxford Street will be diverted at Great Portland Street, Margaret Street, John Princes Street, onto Oxford Street
88: northbound services towards Camden Town from Piccadilly Circus will be diverted at Shaftesbury Avenue via Charing Cross Road, Tottenham Court Road onto Hampstead Road. Southbound services towards Trafalgar Square from Hampstead Road will be diverted at Euston Road via Euston Underpass, Gower Street, Bloomsbury Street, Shaftesbury Avenue, Great Windmill Street onto Haymarket
94: terminates at Marble Arch from the north, from 16:30 until Oxford Street reopens
98: terminates at Marble Arch from the north, from 17:00 until Oxford Street reopens
137: terminates at Marble Arch from the south, from 16:30 until Oxford Street reopens
139: northbound services towards West Hampstead from Pall Mall will be diverted at St James's Street via Piccadilly, Stratton Street, Berkeley Street, Berkeley Square, Mount Street, Carlos Place, Grosvenor Square, Upper Grosvenor Place, Park Street onto Portman Street. Southbound services towards Waterloo from Orchard Street will be diverted via North Audley Street, Grosvenor Square, Grosvenor Square, Carlos Place, Mount Street, Berkeley Square, Berkeley Square, Berkeley Street, Piccadilly, St James's Street, Pall Mall onto Cockspur Street
159: terminates at Piccadilly Circus from the south, from 16:00 until Oxford Street reopens
189: terminates at Portman Square from the north, from 16:30 until Oxford Street reopens
390: eastbound services towards Archway station from Oxford Street will be diverted at Holles Street via Cavendish Square, Cavendish Place, Regent Street, Mortimer Street, Great Portland Street onto Oxford Street. Southbound services towards Notting Hill Gate from Oxford Street will be diverted via Great Portland Street, Margaret Street, John Princes Street onto Oxford Street
453: northbound services towards Marylebone from Piccadilly Circus will be diverted at Shaftesbury Avenue, Charing Cross Road, New Oxford Street, Tottenham Court Road, Euston Road onto Marylebone Road. Southbound services towards Deptford Bridge from Marylebone Road at Albany Street will be diverted at Euston Road via Euston Underpass slip road, Gower Street, Bloomsbury Street, Shaftesbury Avenue, Great Windmill Street onto Haymarket
C2: northbound services towards Parliament Hill Fields from Conduit Street will be diverted at St George Street via Hanover Square, Harewood Place, Holles Street, Cavendish Square, Cavendish Square, Cavendish Square, Cavendish Place onto Langham Place. Southbound services towards Victoria from Regent Street will be diverted at Margaret Street, via Cavendish Square, Henrietta Place, Vere Street, New Bond Street onto Bruton Street