London in mid-January can be a dark, gloomy city – but not this year. For four nights, the capital's dark streets are being lit up for Lumiere London, a festival of lights. Colourful projections and light sculptures are illuminating 30 locations across the city including Mayfair, Piccadilly and Regent Street, Trafalgar Square, Westminster and King's Cross. The free outdoor light festival is produced by Artichoke and supported by the Mayor of London.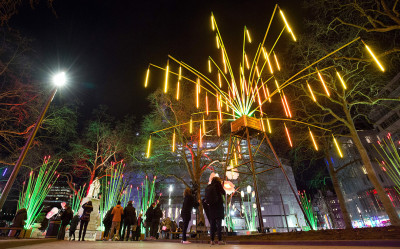 Westminster Abbey's West Gate has been digitally painted by by French artist Patrice Warrener. The Light of the Spirit highlights the stone statues above the Great West Door including Dr Martin Luther King and El Salvadorean Bishop Oscar Romero, as well as parts of the two Western Towers built by Christopher Wren and Nicholas Hawksmoor.
A host of famous faces, including Michael Caine, Idris Elba and Julie Walters, are being projected onto the Bafta building on Piccadilly. Elsewhere, a holographic elephant appears to charge in slow motion towards spectators, while an illuminated fish swims above their heads.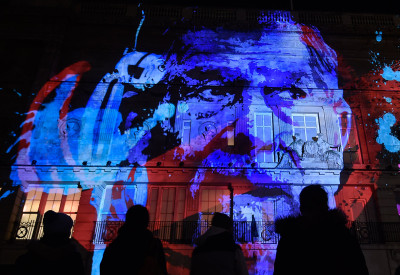 Grosvenor Square in Mayfair is home to several artworks, including a red telephone box that appears to be filled with water and exotic fish.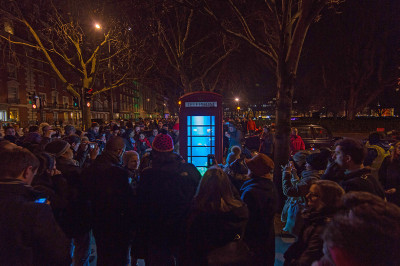 Visitors can stand inside a colourful illuminated cage n King's Cross, while a diver plunges into the nearby outdoor swimming pool.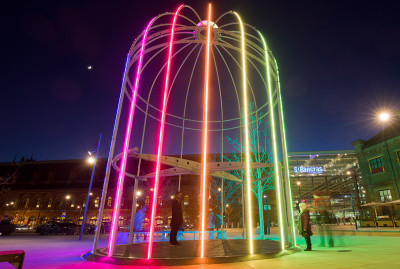 For more information, download the free London Official City Guide app for Android or iPhone. The full programme is on the Lumiere website.