MacBook (2015) Review – the most beautiful portable laptop ever made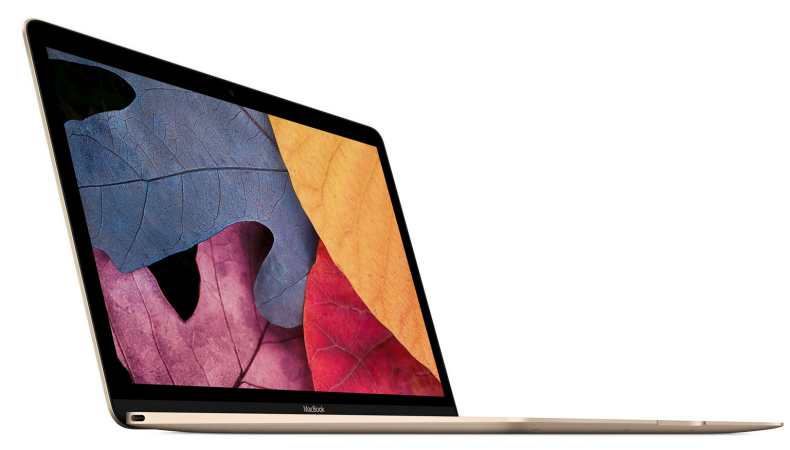 Apple is bucking the trend in the PC world. It is the only company which has consistently seen an increase in sales and market share over the last couple of years. It has done this in the same way it has captured the smartphone and tablet market – by going after the premium end of the market.
MacBook (2015) Specs
12in Retina display
Intel Broadwell chip
8GB RAM
Force Touch trackpad
256GB/512GB storage
Mac OS X Yosemite
Price: From £1,049
Apple's Macs, iMacs and MacBook laptops are as much fashion statement as they are computing device and with its latest laptop, the simply titled MacBook, Apple has brought this combination of computing power and design aesthetic to its peak.
The 2015 version of the MacBook is a laptop for the future, eschewing traditional components like separate USB, video and charging port to promote a wireless world which a single USB-C port will suffice for all your needs.
The question is, has Apple taken the step into the future too soon, or has it once again got it just right?
MacBook (2015): Design and screen
If you have ever used one of Apple's recent MacBook Air models, the statement that the new Macbook is the company's thinnest and lightest laptop ever will give you a clear indication of just what a feat of engineering this laptop is. And it's not just a fraction thinner, it's 24% thinner that the current 11in MacBook Air.
This is simply the most beautifully designed and engineered laptop I've ever used. Light enough that you won't event notice it in your bag (even a handbag) yet somehow robust enough that you never feel like you're going to break it. The laptop is available is grey, silver or gold, matching the company's smartphone and tablet offerings.

Apple has managed to fit the 12in Retina Display (2304 x 1440 pixels) into a chassis which is narrower than that of the 11in MacBook Air. This means the rather ugly grey bezels are gone and replaced by much narrower black bezels which are much less obtrusive.
The screen itself, as you would expect from a Retina display is sharp and bright, with great viewing angles and excellent colour reproduction. Apple has had to completely redesign the screen to get it to fit the into the slim chassis, but the new arrangement has done nothing to impact the screen's quality. The screen looks like you can almost reach out and touch it, thanks to the glass being just 0.5mm thick.
MacBook (2015): Keyboard and trackpad
The new MacBook is not an evolution of the MacBook Air, it is a completely redesigned machine and part of that is an entirely new keyboard and trackpad. As someone who uses a MacBook Pro every day, it took me some time to get used to the new keyboard, but once I did, it was almost as good as the bigger version.
Apple has made a big play of its redesign of the mechanism of the individual keys which it calls the Butterfly Mechanism, and promises more accurate typing. Considering the small space Apple was dealing with, it has done well to create a keyboard where the individual keys are bigger than other MacBooks though obviously the space between the keys is much smaller.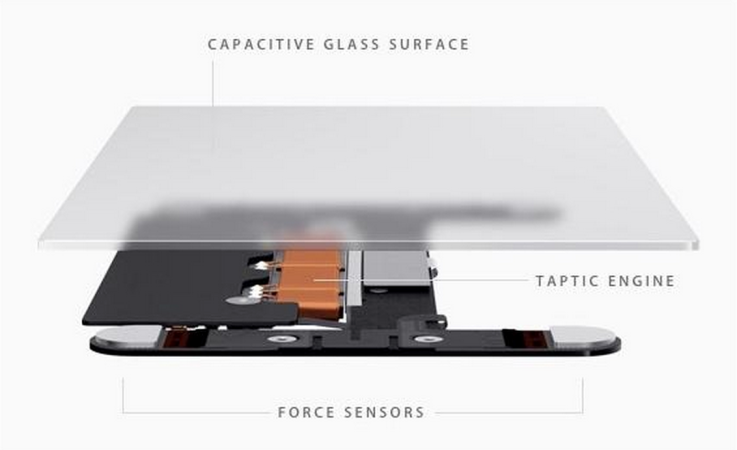 The technology behind the new Force Touch trackpad make it feel as if you are clicking something when in actual fact it is electrical feedback
Apple
Despite the slim chassis, Apple has kept the keyboard backlighting. Each key has its own individual LED which saves power as well as having a slightly subtler effect. I went back briefly to my MacBook Pro keyboard and found it to be very strange, showing that it's all about what you are used to.
Apple has also introduced a redesigned Force Touch trackpad which I first experienced in Apple's most recent MacBook Pro. Apple makes the best laptop trackpads and the latest version confirms that. It is slick, smooth and responsive, and while the Force Touch aspect of the new trackpad has its uses, to date they are limited to three main functions.
The first, called Force Click, allows you to make a secondary click by pushing down harder. Do this on a word in the Safari browser and a Wikipedia definition will pop up. Force Click a link and a preview of the website will appear. Force Click is implemented across Mac OS X offering a way of accessing features previously accessed through a three-finger tap.
The next use for the new trackpad is to allow you to vary the speed at which you fast-forward or rewind through video - essentially the harder you press the faster it goes. This is tricky to get to grips with initially, but once you do it is brilliant. If you do a lot of video editing, I imagine this feature will be a godsend.
Finally, the trackpad can now be used as a pressure sensitive drawing tablet. Again, this is in the early stages but Ten One Design has already updated its Inklet plug-in to take advantage of this feature, which is again targeted at multimedia and graphic design professionals.
MacBook (2015): USB-C and connectivity
One of the most criticised aspects of the 2015 MacBook is the almost total lack of ports, leaving users with a single USB-C port for charging, data transfer and video output. Apple's MacBook's has always been light on ports but this takes things to a new level.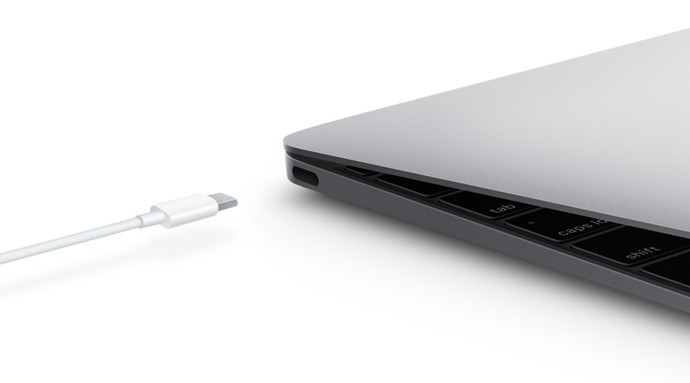 The new MacBook has just one port, which uses the new USB-C technology
Apple
USB-C is certainly going to become the dominant standard in the next 12-18 months for laptops, tablets and smartphones but for now accessories using the connector are thin on the ground. Apple says that the future is wireless, playing up the MacBook's Bluetooth audio capability (there is also a headphone jack it must be mentioned), its AirPlay functionality and the ability to connect automatically using your iPhone's network connection when Wi-Fi is not available.
Of course this utopian future of computing is all well and good when you own Bluetooth headphones, have an Apple TV handy at all times and use an iPhone. If you don't have these devices then you will need to purchase a connector (which Apple conveniently sells), costing from £15 for a single USB-C to USB adaptor, to £65 for a more useful USB-C to a HDMI, USB 3 and USB-C adaptor.
Wireless connectivity is taken care of with the standard combination of Wi-Fi AC and Bluetooth 4.0 though I did find the MacBook dropping its Wi-Fi connection from time to time which is annoying, though apparently this is a software issue that will be fixed in the latest version of OS X which comes out next month.
MacBook (2015): Performance and Battery
The MacBook may be slim and light, but powerful it ain't. The 1.1GHz Intel chip is built on the new 14nm process and is built for efficiency rather than power. The fact the MacBook doesn't have (or need) a fan such give you all the indication you need of the processing power of this laptop.
Don't get me wrong, it can still do 90% of what you want it to do without a problem, but the minute you open 20 tabs in your browser (which I do a lot) or try some image editing, then you will notice some lag. This is a laptop for those on the move, not one for those looking to get a lot of heavy lifting done. the 8GB of RAM that comes as standard helps to ensure that the MacBook doesn't crash, but if you really do want to try some video editing, I suggest you wait until you get home.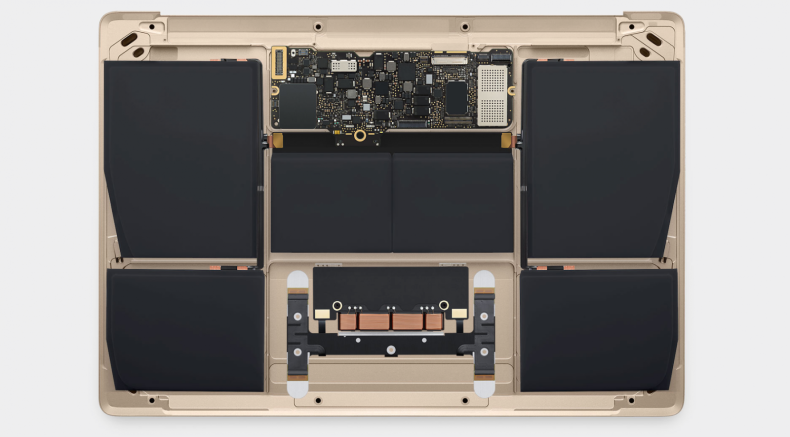 The upside of the Broadwell chip's lack of power is that battery life is improved. Apple has done everything it can to cram as much battery into the slim chassis as possible having developed a new terraced battery cell.
Apple claims all-day battery life and while I found that during intense work sessions I was reaching for the power cable after about seven hours, that is not bad considering the size of the laptop and the high resolution of the Retina display. Additionally, thanks to the USB-C charging port, you can go from zero to 100% much quicker than normal.
MacBook (2015): Value
At £1,049 for the 256GB model, the MacBook (2015) is expensive - even by Apple standards. For £50 less you can get the bigger 13in MacBook Air which features all those extra ports, a more powerful processor and longer battery life - though it does only have 4GB of RAM.
The other option from Apple of course is the iPad Air 2, which costs from £399 but obviously you don't get a proper keyboard with the tablet. Finally, you could wait a couple of weeks to see if Apple finally introduces its much speculated iPad Pro which could be the biggest challenger to Apple's ultimate portable computing device.
Of course you could look elsewhere for a Windows 10 laptop/hybrid/tablet but to date, nothing I have tried compares to the 2015 MacBook in terms of style, portability and ease-of-use.
Would I buy one? No I would still choose a MacBook Air due to price and battery life but if money were no object, then I would buy the new MacBook.
Apple MacBook (2015)
(8/10)
Verdict: The Apple MacBook (2015) is the laptop of the future, but unless you have deep pockets, the performance and connectivity limitations are just too much to take, despite the beautiful design and world class engineering.
MacBook (2015) Scores
Screen: 9/10 - A beautiful Retina display which eliminates most of the bezel of the MacBook Air
Design: 10/10 - A true wonder of engineering and design
Performance: 7/10 - This is the big Achilles heel of the MacBook, but remember for 90% of what you want to do, it works just fine
Value: 8/10 - At £1,049 this is not cheap, but those buying one will be making a purchase of love rather than necessity
Overall: 8/10 - The laptop of the future and if you have a deep wallet combined with wanting a wireless life without major performance and very long battery life, then the MacBook is for you
The Good
Great screen
Beautiful design and great build quality
Great keyboard and touchpad
The Bad
Disappointing battery life
Just one port
Very average performance