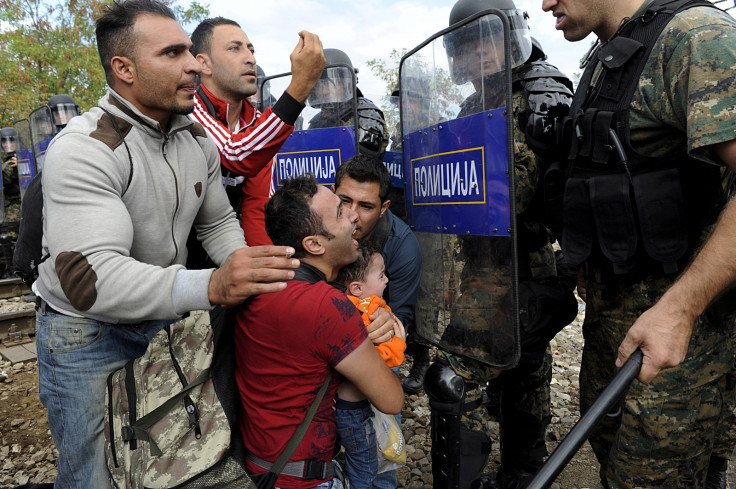 Macedonia has defended its actions in beating back migrants with tear gas, riot shields and truncheons, saying border police had to "reinforce the control of illegal entry". Riot police fired tear gas to disperse thousands of migrants who advanced on security forces after the border with Greece was shut on Friday, 21 August.
Aid workers from Medecins Sans Frontieres said they had treated people injured with stun grenades fired by Macedonian troops, and one asylum seeker was seen bleeding from shrapnel from stun grenades, according to AP. At least 10 people were injured in the clashes, with more needing treatment by aid workers according to Reuters.
Macedonia's Foreign Minister Nikola Poposki estimates that up to 3,500 migrants a day enter the Eastern European state and the situation had "dramatically deteriorated". The crisis, which has left thousands spending the night in open fields near Idomeni on the border with Greece, has forced the state to declare a state of emergency.
Poposki told the BBC: "In the last several days there has been a dramatic increase of inflow of migrants and we have reached numbers of 3,000 to 3,500 per day which obviously is not something a country of two million people and our resources can handle on a daily basis. We had to reinforce the control of illegal entry of Macedonian territory."
Refugee bottleneck
Crowds at the border predominately consist of fleeing Syrians, Afghans and Iraqis heading to Northern European states. Macedonia is a bottleneck for many migrants attempting to enter Europe.
Despite the deepening crisis along the country's borders, Poposki said the refugees were not being "mistreated". All migrants had 72 hours to decide whether they would apply for asylum in Macedonia or pursue their route north, he said.
"Macedonia's definitely not a place where they have been mistreated," said Poposki. "For a country of two million people with no resources, not a member state of the European Union – meaning not being able to apply for all the funds that are available – we have handled this crisis in a pretty decent manner."
The UN refugee agency, UNHCR, expressed its concern for the migrants in a statement, saying: "UNHCR is particularly worried about the thousands of vulnerable refugees and migrants, especially women and children, now massed on the Greek side of the border amid deteriorating conditions. Europe must act together in response to this growing crisis and help overstretched countries like Greece, FYR Macedonia and Serbia."
Macedonia applied to become a member for the EU in 2004. However, its accession to the economic alliance has been blocked by disputes with Greece and Bulgaria.