Mad Men Season 7 Mid-Season Finale titled 'Waterloo' will feature some cliff-hanger situations including Don Draper's greatest battle, both personally and professionally.
Episode 7 will answer fans' eager questions about Don's job, Pete's stay in California and Peggy's career, and most importantly the conclusion on Ginsberg's nipple.
The episode's title is significant considering 'Waterloo' means "a decisive or final defeat or setback," according to the Merriam-Webstar Online after Napoleon's comprehensive defeat at the hands of the British and other European forces at a place of the same name.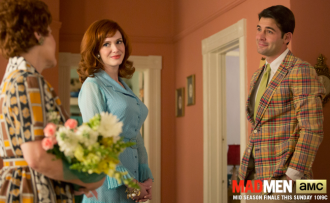 Is the title suggesting that something shocking is ahead for Don, Pete, Peggy and Megan, most probably a defeat in career, relationship or life?
Entertainment website bustle.com suspects that the finale trailer points towards Megan Draper's death.
The trailer gives one good look at Megan sitting peacefully on her flight seat while 'It's all up in the air' appears on screen with the sounds of a plummeting airplane, the website reported.
Pete's girlfriend Bonnie too has boarded the same plane back to Los Angeles, and he has a history of losing his loved ones in accidents and plane crashes.
Show creator Matthew Weiner has previously said that no one will die in this season. But fans are familiar with his secretive nature towards his show. He probably gave the statement to keep people away from finale spoilers.
Entertainment website gothamist.com too suspects that the crashing music coinciding with Megan sitting in the plane has something to do with the upcoming cliff-hanger of a shocking finale.
The official synopsis of Mad Men Season 7, Episode 7, 'Waterloo,' reads:
"Don is troubled by a letter; Peggy may seek a new future on a risky venture; Roger receives a phone call; Pete and Cutler butt heads."
The finale episode of Mad Men airs on Sunday, May 25, 2014 at 10:00 pm on AMC.
Check out the promo of the mid-season finale of Mad Men Season 7 below.