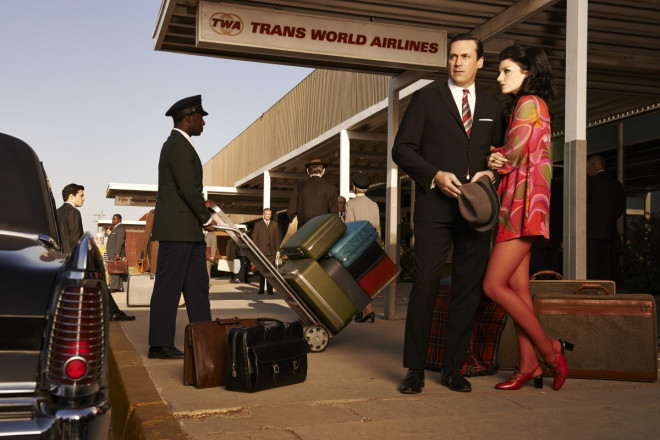 As Mad Men returns to TV with its seventh and final season, fans are still wondering about the future of Don and Megan Draper's marriage.
By the end of season 6, Megan was shown to be losing complete interest in her marriage to Don – a controlling alcoholic who's secretly having an affair, reports The Christian Post.
As per recent reports, Megan's acting career taking off in the latest season may lead to the on-screen couple's divorce.
Season 7 spoilers indicate that Megan will grow increasingly independent and Don's second marriage will fail because of his infidelity – the same reason that led to the end of his first marriage to Betty.
Furthermore, during a recent interview, actor Jon Hamm, who portrays Don on Mad Men, discussed his character's dismissal from Sterling Cooper & Partners and what that means to him.
"[Don's] screwed up the marriage, he's screwed up the kids," the actor revealed. "He always [knew] that at least he was good at his job, and now he doesn't even have that."
Meanwhile, Mad Men creator Matthew Weiner recently opened up about the final episodes, admitting he had known about the ending for years.
"Every season, I come in, and I know basically what the last images of the show are going to be each season..." Weiner explained to AMC. "But the process that I don't reveal is that when I get to the finale, I usually don't want to do it anymore."
Mad Men Season 7 airs on Sundays on AMC at 10 pm EST.
The synopsis for this week's episode, A Day's Work, is as follows:
"Peggy receives flowers at the office; Pete navigates the politics of new business; Joan is put in an awkward situation."