Madagascar has been hit by the worst outbreak of plague in 50 years, experts say.
The disease has gripped the island, infecting at least 1,800 people – more than four times last year's count - and killing 128 so far this year, said the World Health Organisation (WHO).
The WHO labels plague as "one of the oldest - and most feared - of all diseases".
Professor Jimmy Whitworth, an international public health scientist at the London School of Hygiene & Tropical Medicine, told MailOnline: "This outbreak is the worst for 50 years or more."
The outbreak on the island off the south-east coast of Africa, has prompted health alerts in nine nearby countries - South Africa, Seychelles, La Reunion, Mozambique, Tanzania, Kenya, Ethiopia, Comoros and Mauritius.
Schools and universities have been shut in a bid to contain the respiratory disease, while Madagascar's Air Seychelles temporarily stopped flights earlier in the month to try and curb the plague spreading abroad.
Experts fear that the virus may be fanned further by the country's widespread ancient ritual, called Famadihana, where relatives dig up their loved ones, rewrap corpses and dance with the dead.
This practice, also called the turning of the bones, sees the human remains of dead relatives paraded in a carnival-style celebration meant to honour the mortal wishes of the deceased.
The government has ordered that this practice, usually carried out between July and October, should not be performed on plague victims. But local reports say this ruling has been flouted among local communities on the huge Indian Ocean island with a population of 25 million.
Black Death
"In that type of situation, it may be easy to forget about respiratory etiquettes," Panu Saaristo, the International Federation of Red Cross' team leader for health in Madagascar, told MailOnline.
There are two main strains of plague. Bubonic plague is spread to humans by the bites of infected fleas that live on small mammals such as rats, it kills two-thirds of those affected without treatment.
Bubonic plague was responsible for the Black Death in the 14th century, killing more than 50 million people across Europe.
Around one in 10 bubonic plague cases develops into pneumonic plague, which can kill in 24 hours if not treated promptly. Pneumonic plague spreads much more easily through droplets in the air, so can be passed on through coughs and sneezes.
However, both forms of plague can be treated by a short course of antibiotics, providing it is given early.
Madagascar is susceptible to this disease, even having a plague season that runs from September to April.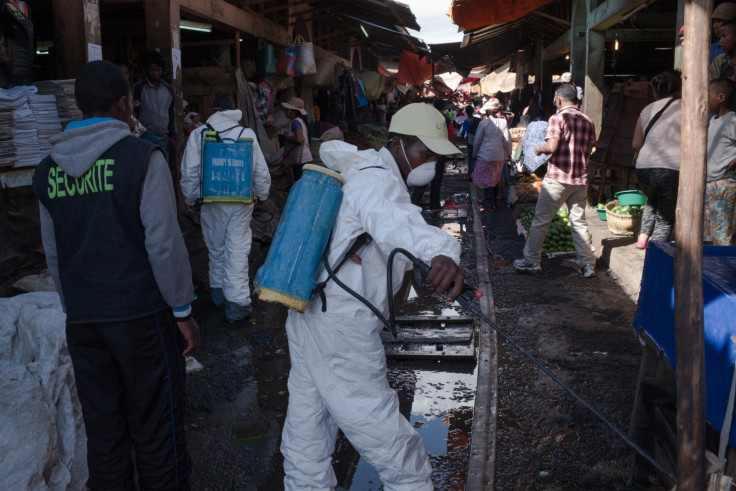 Forest fires
Health experts are unclear why this year's outbreak of plague has taken such a strong hold on the country, but they point to a number of contributory factors.
This year's outbreak has started earlier, in August, as forest fires drove rats into rural communities spreading the disease. Heavy flooding and higher temperatures caused by last year's El Niño weather phenomenon may also have led to an increase of the rat population on the island.
The plague has also pushed for the first time into the country's biggest two cities, Antananarivo and Toamasina, with a combined population of 1.6 million. The disease spreads much faster in built up areas, say medical experts.
The island has fought the plague by providing more than 2,000 community health workers to search for the disease in rural areas. The WHO has administered 1.2 million doses of antibiotics.
Madagascar's Ministry of Health says it has seen signs of the number of plague cases ease in recent weeks.
The medical charity Medecins Sans Frontieres (MSF), has been working in some of the island's most affected areas.
Dr Tim Jagatic of MSF told the BBC: "Outbreaks are always difficult to predict. Right now we're seeing a decrease in cases, but that doesn't mean this is over. We're prepared for a spike, and want to make absolutely sure we won't be caught off guard again."