They are new hopes that arrests may be made in connection with the disappearance of Madeleine McCann.
In a new development in the case, Portugal's Attorney General's office has confirmed it had received a formal request for help from UK prosecutors in the form of an International Letter of Request, which asks for access to three 'prime suspects.'
The letter will be forwarded to a court in the Algarve resort of Portimao who are now investigating the newly-reopened case.
Scotland Yard are reportedly interested in questioning three local burglars believed to be behind a string of break-ins in Praia da Luz in May 2007, around the time of Madeleine McCann's disappearence.
Investigators revealed that the suspects were very close to the scene and made an unusually high number of calls to each other in the hours after her abduction.
The Madeleine McCann inquiry, shelved nearly six years ago, was reopened at the request of police in Porto, who have spent the past three years reviewing the case.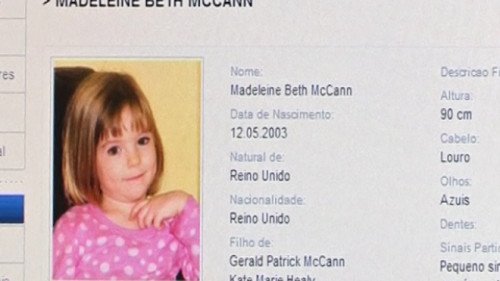 Jose Magalhaes e Menezes, the public prosecutor in charge of the original investigation, is overseeing the reopened inquiry.
He condemned the previous enquiry by Portuguese investigators, which alleged that the McCanns were implicated in their daughter's disappearence, stating that they "achieved very little" in 15 months.
Scotland Yard detectives are conducting their own separate criminal inquiry into Madeleine's disappearance called Operation Grange, which was first launched as a review in 2011, following the intervention of David Cameron in the case.
Detective Chief Inspector Andy Redwood, who is leading the Met operation, has said he believes Madeleine is still alive.
A spokesman for Madeleine's parents has described the International Letter of Request as a significant development.