Madonna's Brits appearance was making news, but for all the wrong reasons after the singer took a dramatic tumble during the live show. It was the most eagerly awaited star performance of the night with Madonna returning to the Brits stage at the 02 arena for the first time in two decades.
As she made her dramatic entry in a black cape with a long train held by her dancers, it was just moments into the performance of her new Living For Love, that the mishap occurred. The star attempted to step up onto a raised stage, but as she did so her cape appeared to be yanked back by the dancers holding it, pulling her clean off the stage.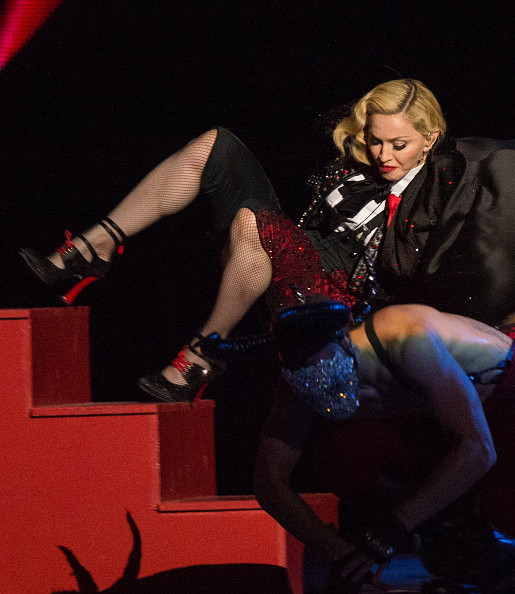 Ever the consummate professional after a moment of shock, she quickly picked herself up and continued to sing as she stepped back onto the stage.
The 56-year-old star defied her years and her bruised ego to resume the performance, but the incident saw #Madonna trending worldwide as music fans took to Twitter in horror and in sympathy for the iconic singer.
"Did that actually just happen? Well done for carrying on #Madonna - whoever tied that Cape is going to be in BIG trouble #BRITs2015
And that is a lesson in 'when you take a fall, get up and keep going!' Hats off #Madonna #BRITs2015

— Karen Higgins (@karenellaB) February 25, 2015
"Holy Moly. Fair play to her carrying on but I would have just stopped and retired at that exact moment. #Madonna #BRITs2015"
"OH @Madonna I LOVE YOU!!! It's like watching someone drunk doing Karaoke & you are feeling that dazed 'happy/drunk' mode."
"That was awful but massive kudos for carrying on like a true professional. That dancer is so dead though #BRITs2015 #Madonna"
"And that is a lesson in 'when you take a fall, get up and keep going!' Hats off #Madonna #BRITs2015"
And it was not just the viewing public that were left in state of shock. Taylor Swift and model Karlie Kloss looked on clearly mortified at the sight of the Material Girl flat on her back. British comic Jimmy Carr couldn't help but comment at length on the incident.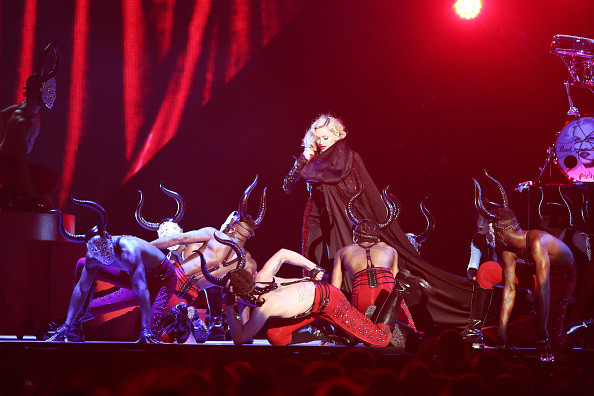 Speaking at the after-party he said: "In the end you're kind of waiting for that big moment and she went down hard. It probably looked like she really hurt herself but she proved what a trooper she is. That's going to go viral in a big way. She had the biggest moment. She stole the show. What a trooper. Singers out there twenty years younger would have walked off right then. The bit where she falls over you've got to see. Of course she's fine. She's Madonna. She's pretty much immortal," added Carr.
Singer Nick Jonas had a more sympathetic stance. "Everybody falls. Everybody's human. She's the shining example of an absolute pro. I felt bad in that moment. I've fallen on stage a million of times."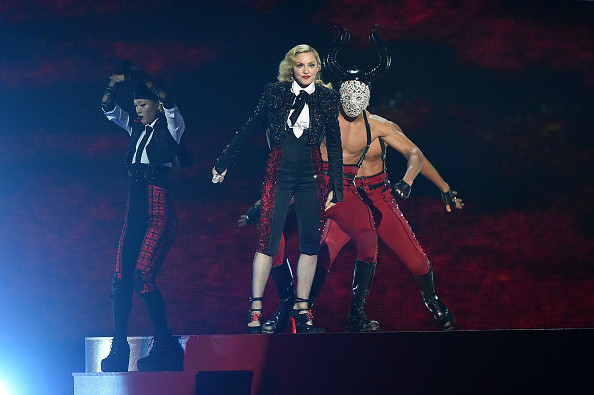 Putting all embarrasssment behind her, Madonna took to Instagram soon after the incident and explained that the Armani cloak she was wearing was "tied too tight" but said she was "fine". "Armani hooked me up! My beautiful cape was tied too tight! But nothing can stop me and love really lifted me up! Thanks for your good wishes! I'm fine! ❤️#livingforlove," she wrote.
While the Brits 2015 will be remembered as the night Madonna fell off the stage, chances are it's not the last we'll hear of the incident. Heads will roll and in the meantime, the Madonna tumble vine will go viral.