Madonna to rival Taylor Swift's Bad Blood with music video starring Katy Perry, Nicki Minaj, Beyonce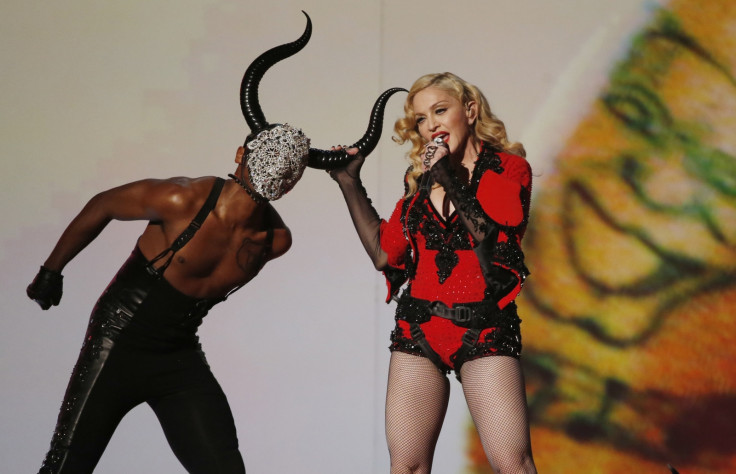 Taylor Swift rounded up most of her showbiz friends for the epic Bad Blood music video but now Madonna is giving the Shake It Off singer a run for her money.
The 56-year-old pop icon has excited fans after announcing that the music video for her new single Bitch I'm Madonna is set to debut soon and will star pop icons Beyonce, Nicki Minaj, Miley Cyrus, Katy Perry and Rita Ora.
The single features a verse from Minaj and DJ Diplo, who produced the track, is also expected to make a cameo.
According to Us Weekly, Madonna will premiere the music video via Jay Z's Tidal music streaming service, of which the singer is a co-owner along with Feeling Myself collaborators Beyonce and Minaj.
Madonna has clearly taken inspiration from her younger pop rival Swift, who spent weeks teasing the celebrity cameos that starred in Bad Blood, which included Gigi Hadid, Ellie Goulding, Selena Gomez and Jessica Alba.
It is widely speculated that Bad Blood was written about Swift's highly-publicised feud with Perry, 30, so her appearance in Madge's video could possibly divide both sets of fans.
However, relations between Madonna and Swift have been nothing but friendly so far with the legendary pop star gushing over the young country singer in January 2015.
Madonna told Australia's Today show: "It's good to have princesses [of pop]. It means there's lots of pretty dresses around.
"I like Taylor Swift. I think she writes some really catchy pop songs. I can't get them out of my head."
The I Knew You Were Trouble songstress responded with her own praise for the iconic singer, writing on her Tumblr shortly after: "Thanks now I'm dead. #HOW AM I SUPPOSED TO DEAL WITH THIS #BE COOL TAYLOR STOP BEING EMBARRASSING."
Bitch I'm Madonna features on the star's latest album Rebel Heart and is the fourth single to be released, following the title track, Ghosttown and Living for Love.
Listen to Madonna and Nicki Minaj's Bitch I'm Madonna:
© Copyright IBTimes 2023. All rights reserved.