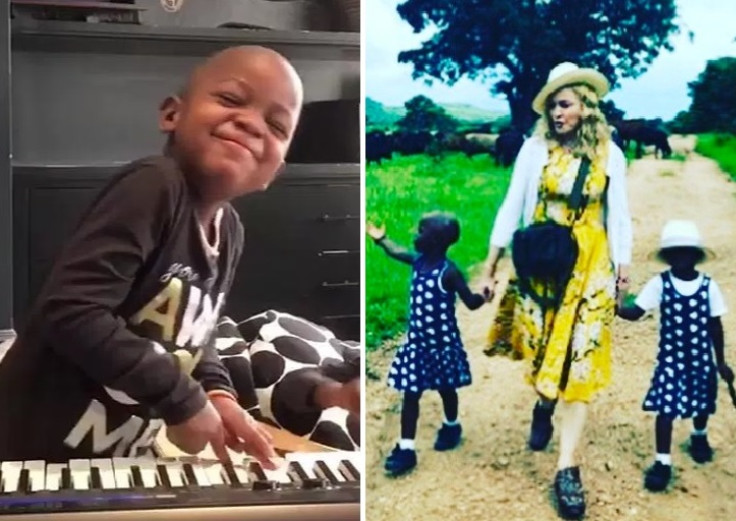 Proud mum Madonna has shared a video of her recently adopted twin daughters Estere and Stelle playing the keyboards.
The four-year-olds – who the Material Girl singer adopted from an orphanage in Malawi last month – seem happy and confident as they bang their hands down on the keys.
Madonna, 58, told her 8.8million Instagram followers: "Saturday Jam! Awesome!"
She later followed it up with a snap showing the three of them together relaxing on the grass outside.
All of that jamming appeared to have taken its toll on Madge who posed dramatically laying down with her left arm held up above her head.
Estere and Stelle seemed happy as ever, however as they sat chatting amongst themselves.
It's not the first time that Madonna has showed off her new family members' musical abilities.
She previously shared a clip of the pint-sized duo singing.
Madonna has been keeping fans up-to-date on how her girls are settling into their new life with her family in the US.
A recent post on the photo sharing site saw them enjoying a pyjama party together.
The youngsters were all-smiles as they posed in matching black and white butterfly PJs along with Madonna's other adopted children – Mercy James and David Banda, both 11 and also from Malawi.
Absent were Madge's biological offspring – Lourdes Leon, 20, and Rocco Ritchie, 16.
Meanwhile, Madonna's sister has offered to act as a guardian to her brood should anything happen to her.
In a judgement passed at the High Court in Malawi in relation to Estere and Stelle's adoption Judge Fiona Mwale said: "[Madonna's] extended family are equally on-board with the adoption.
"One of her sister's and her husband have executed a declaration of their willingness to step in as guardian of the two infants should anything happen to the petitioner."
It has not been stated which sibling has agreed to become guardians if need be.
Madonna is the second oldest of eight children including three younger sisters – Jennifer, Paula and Melanie.
She is reportedly not close to half-sister Jennifer, while she enjoys a closer relationship with former model Paula.
Melanie – who Madonna affectionately calls "Smells", held her hand when she gave birth to Lourdes in 1996.