A prominent Catalan politician has told IBTimes UK his parliament will ignore a court ruling quashing the separatists' bid to break away from Spain, as the stand-off between Madrid and the north east region continues to escalate.
In a direct move against Madrid, Catalonia's assembly controversially voted on 27 July to continue with its independence road map, in a move spearheaded by the Junts pel Sí (Together for Yes) coalition and backed by the Popular Unity Candidacy party.
But this move was annulled on Monday (1 August) by Spain's Constitutional Court, spurring Catalonia's foreign affairs minister Raül Romeva of Junts pel Sí to say that it was "a misjudgement" to think that suspending a parliamentary decree can "stop a process of self-determination".
Romeva told IBTimes UK via email: "Again we find an attempt to limit the freedom of the Catalan Parliament to discuss a road map endorsed at the polls and which responds to a democratic mandate.
"But the Constitutional Court is not to blame, it is the Spanish government that neglects its obligations. You cannot manage a political process at court.
"Besides, we must remember that the Constitutional Court is a discredited institution whose members are appointed by Spanish political parties, and whose current president was a Popular Party [Spanish conservative party] militant," he said.
The pursuit of the long-held goal of Catalan separatists comes at a sensitive time in Spanish politics.
Two general elections in the last six months have failed to produce a majority government, and instead there is a caretaker administration headed by Mariano Rajoy, who may need the support of regional parties such as the ones in Catalonia.
When the former mayor of Girona, Carles Puidgemont, became the Catalan president in January 2016, he announced an 18-month time-frame for independence.
Romeva said this was still on track and would involve the Catalan parliament drafting so-called "disconnection laws" that would set up an independent treasury and social protection agency, as well as covering "a judicial transition from Spanish law to the laws of the Catalan Republic".
"We said from the start that in 18 months' time, the Catalan people will be able to vote whether they want Catalonia to become a new state in Europe or not. That deadline ends in the summer of 2017. Our government is planning on this basis, and this is what we will do."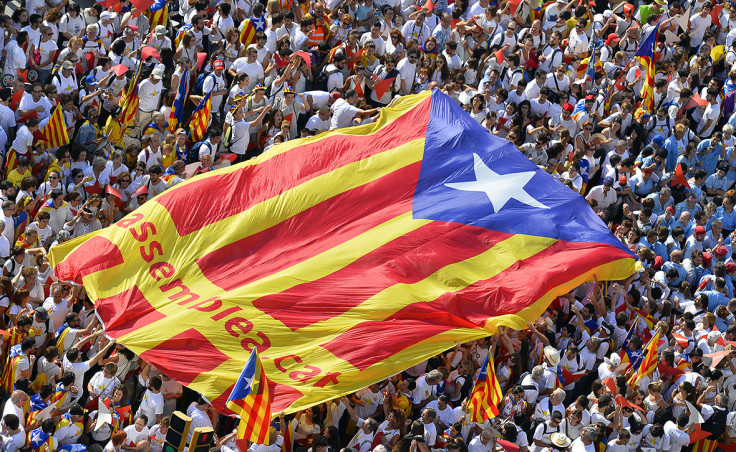 There is wider support from other Spanish political players, such as the party Podemos, which is demanding a binding referendum on independence, a ballot that also has the support of 87% of people in Catalonia.
While support for a referendum may be nearly unanimous, a poll in July put support for independence in the region at just under 48%, with around 42% against it.
Brexit
The Brexit vote in the UK was closely followed in Catalonia. Romeva said although its result did not have a positive effect on any of his independence aspirations, it did emphasise the need to deal with internal political processes through negotiation.
He also added that the Scottish independence referendum in 2014, and the one held in Quebec, Canada, in 1995, were examples that Spain should follow.
A barrier is that the Popular Party still has a majority in the upper house, meaning it can veto any reform to the constitution that does not allow for a region to unilaterally declare independence.
Madrid is looking into pressing criminal charges against the Catalan parliament speaker Carme Forcadell for allowing the assembly to hold the vote, which provoked a furious reaction from Ciudadanos and Popular Party MPs who left the chamber rather than take part.
This just goes to show how in the coming months, the battle lines are drawn and the relationship between Catalonia and Madrid, at least for Romeva, is an adversarial one.
"The Spanish government refuses any kind of dialogue with Catalan institutions, and hostility towards Catalan institutions has been clear, as well as contempt for the basic democratic mandate from the Catalan people.
"It comes as no surprise that so many Catalans no longer believe that the Spanish government or Spain's state institutions can govern without prejudice against Catalonia, and therefore they seek their own state," he told IBTimes UK.