Embattled Venezuelan President Nicolas Maduro has vowed that a band of anti-government fighters who attacked an army base will get the "maximum penalty".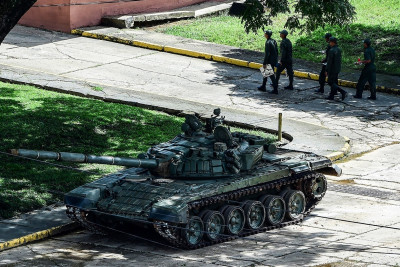 In his weekly televised show, the unpopular socialist leader condemned the attackers as "mercenaries". He said around 20 armed men had entered the Fort of Paramacay near Valencia, about two hours west of capital Caracas, before dawn, surprising guards and making straight for the weapons cache.
The attack was apparently led by Juan Carlos Caguaripano, a former National Guard captain. The pre-dawn raid coincided with a video circulated on social media showing more than a dozen men in military uniform announcing an uprising to restore constitutional order. In the video, a man who identified himself as Caguaripano and flanked by men in military uniforms, called for the immediate formation of a transition government.
"This is not a coup d'etat," added Caguaripano, who was removed from the National Guard in 2014, according to a document seen by Reuters. "This is a civic and military action to re-establish constitutional order. But more than that, it is to save the country from total destruction."
Two of the attackers were killed in a firefight with soldiers, Maduro said. Socialist party officials said eight others were arrested, including at least three from the military, while the remainder made off with weapons. "Those who escaped are being actively searched for, and we are going to capture them," Maduro said.
Authorities published photos purporting to show seven arrested men, some of them with bruises on their faces.
Authorities claimed the attackers were mostly civilians working for US-backed right-wingers who are trying to end nearly two decades of socialism in Venezuela, raising the spectre of a further government crackdown on dissent in coming days. "These attacks, planned by delirious minds in Miami, only strengthen the morale of our armed forces and the Bolivarian people," said Socialist Party official Elias Jaua.
Hundreds took to the streets of Valencia to support what at first appeared to be a small military uprising. Witnesses reported shots through the night. But hooded protesters were dispelled with tear gas, and the rest of the nation of 30 million people appeared mostly calm.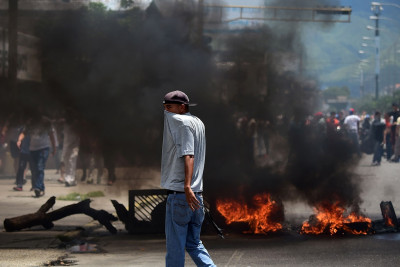 The crisis has turned attention to the role of the military, with some ordinary soldiers increasingly weary of the popular backlash against their role in suppressing protests.
Opposition leaders have urged the military, which historically has served as an arbiter of Venezuela's political disputes, to break with Maduro over what his foes consider violations of the constitution. But the president is believed to still have the military's support.
Last week, Venezuela elected a 545-member legislative superbody that Maduro calls Venezuela's only hope for restoring peace. The opposition calls it a power play aimed at keeping the president in office despite approval ratings battered by a deep recession, high inflation and shortages of food and medicine.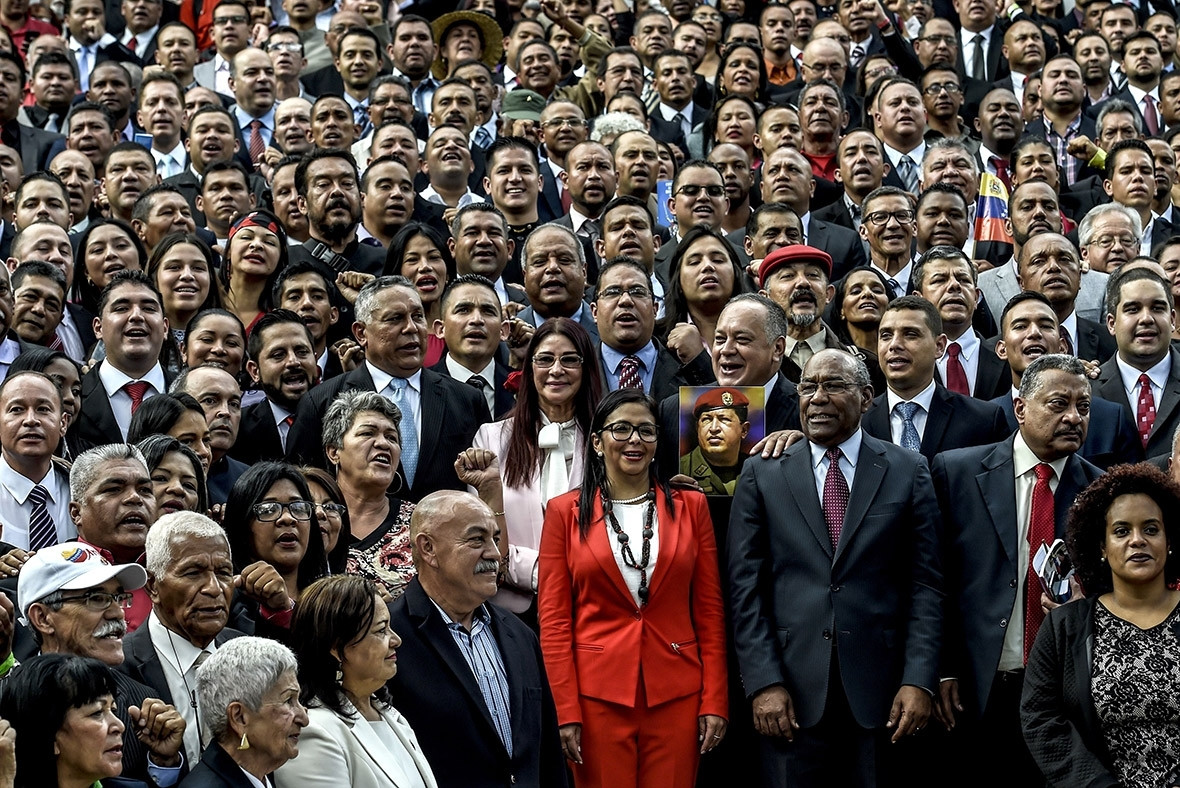 Governments ranging from Latin American neighbours to the United States and European Union have condemned the assembly, with the Vatican making a last minute plea for authorities to suspend it. Brazil recommended that Venezuela be suspended from trade bloc Mercosur until it returns to democracy.
It was a turbulent first weekend for the increasingly fractured nation under the new authority. In its first move on Saturday, the Constituent Assembly removed Venezuela's dissident chief prosecutor from her post and ordered her to stand trial, confirming opposition fears that it would use its powers to root out critics of the government.
The new assembly, which Maduro says is needed to enshrine socialism more profoundly in the constitution, has the power to dissolve or reconstitute all government bodies. The opposition, which controls Congress, boycotted the election for the new body, saying the rules had been rigged.
The fired prosecutor, Luisa Ortega, had become Maduro's main challenger from within the ruling socialist movement since the start of sustained opposition street protests in April. Her successor has promised to crack down on the demonstrations but Ortega has rejected her removal as illegal. She vowed to continue working saying she is, "still the chief prosecutor of this country.".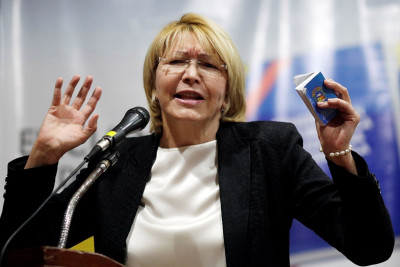 More than 120 people have been reported killed in four months of unrest that has been fuelled by anger at the socialist government over food shortages, soaring inflation and high crime.