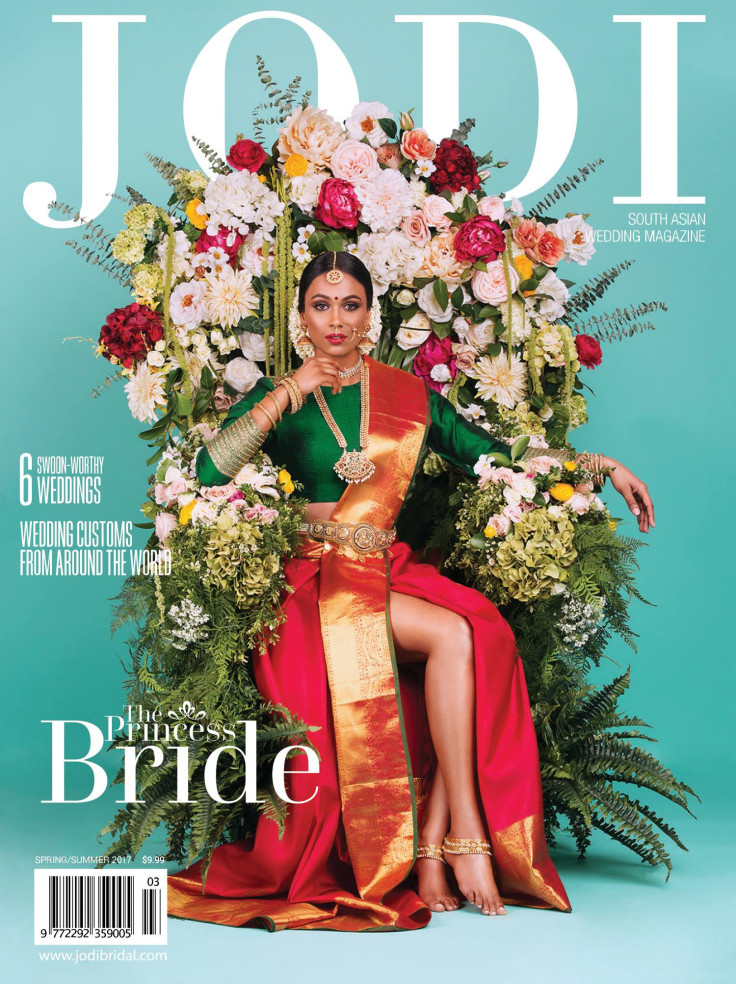 The cover photo of a Canada-based South Asian wedding magazine showing a Tamil bride in a sari with a thigh-high slit has ignited an online debate.
In the picture, which was shared on 13 March, model Thanuska Subramaniam can be seen sitting on a chair decorated with flowers in traditional wedding get-up. The magazine has said that its theme for the latest issue was "Be bold. Be the change" and that's why it has portrayed the bride like that.
"This cover stands for more than beauty and Tamil culture. Not only is it art, it's an expression of feminism.
"A princess bride can be bold, regal, whimsical or romantic. In other words, there are no cookie-cutter brides. If baring your legs in a sari is a cultural juxtaposition, then so be it," the magazine's team has said on Facebook.
The photo has generated wide-ranging views on the social media site Facebook. Jodi Bridal Show that caters mainly to Indians who live in Canada has left few people displeased by the way a "Tamil Bride" has been portrayed in the cover image.
"Please show me somewhere where a legitimate Tamil bride dresses like this... way to make a mockery of our culture," one user commented on the social media site.
"It's a mere sleazy skin show affair and they labelled as 'Tamil bride'. And this never ever happens in reality for a 'Tamil bride'. There's no harm if u don't like to dress or cover your body parts, I mean to flaunt but don't label any culture for your free thoughts," another user said.
However, some users also backed the cover photo. One user said, "Instead of admiring the beauty and hard work behind this, people choose to focus on ONE THING instead of the bigger picture. So exposing ones legs is seen as not Tamil? This is a gorgeous shot and I'm so happy to know everyone behind this."
Model Subramaniam also defended the cover and said she was "shocked" at the outrage people have created.
"I love it. I didn't even think I could look like that. There is so much Tamil female talent that was behind this cover.
"It's sad that all those people who had negative things to say about the cover didn't want to acknowledge that aspect behind it. People should be proud of that. They should encourage that," she was quoted as saying by Now Toronto.