Wimbledon Centre Court witnessed a major shock as world number one Rafael Nadal of Spain was dumped out in the men's singles by 19-year-old Australian wildcard Nick Kyrgios.
14-time Grand Slam winner Nadal simply couldn't cope with the unseeded teenager's huge serve, losing in four sets 7-6 (7-5) 5-7 7-6 (7-5) 6-3. Kyrgios served 37 aces in the match.
Kyrgios, ranked 144 in the world, becomes the first player from outside the top 100 to beat a world number one since 1992 when Jim Courier lost to 193-ranked Andrei Olhovskiy. However, Kyrgios was world number one at junior level last year; in recent weeks both Andy Murray and Pat Cash have tipped Kyrgios to become one of the top players in the sport.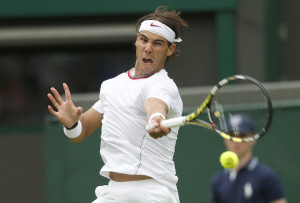 Although up against one of Wimbledon's most popular and skilled players Kyrgios won over the crowd with his storming performance. After the match he told the BBC: "I was in a bit of a zone out there and didn't really notice the crowd. I was struggling a little on return but I worked my way into it and I served really well throughout, so am very happy. You have to believe that you can win the match from the start and I definitely did. I am playing really well on grass."
Two-time winner of the tournament Nadal has now failed to reach the last eight at Wimbledon in each of his last three attempts.
"I think we have found the next guy in the men's game," said former champion John McEnroe. "I couldn't believe he could keep that up all match. He had this feeling about him that he absolutely believed that he would win. He is acting to me like he can win the whole tournament. The last guy I saw like that was Boris Becker."