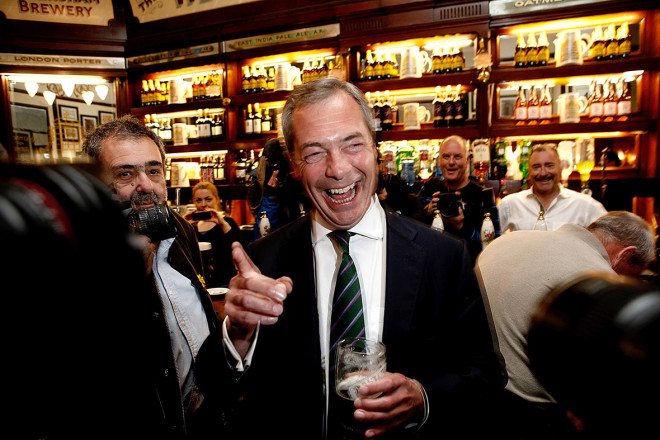 Almost nine out of ten people who voted for Ukip in the European elections will also vote for the party at the general election, according to a poll published today.
The poll, conducted by ComRes, found 86% of people who voted for the Eurosceptic party would do so again in 2015.
Party leader Nigel Farage hailed a historic win after Ukip topped the polls in the EU ballots last week, with 4.3 million votes, ahead of Labour and the Conservatives, while the Liberal Democrats were wiped out.
According to the poll, Ukip attracted voters based on its immigration policy and demands to impose greater controls on UK borders.
The results, published in The Telegraph, found 40% of those who voted Ukip were "certain" to vote for the party next year and another 49% said they were "likely" to do so.
14% of respondents said they would probably back another party.
The results of the poll shed doubt on Tory predictions that supporters of the "protest party" were only 'lending' their votes to Ukip and would switch allegiances back to the Conservatives at the next general election.
The survey, based on interviews with 4,078 adults, was commissioned by Paul Sykes, Ukip's biggest financial backer.
Sykes said that the results should shake the Conservatives out of their sense of complacency and that Ukip should be recognised as a serious threat at the general election.
"Conservative MPs, with a few honourable exceptions, appear to be in denial about the scale of the popular uprising against our current rulers," said Sykes. "This is despite their party finishing third in the elections.
"They appear to think that the Ukip threat will go away (it won't) or that the economic recovery will float them off the political rocks. They should recall what happened in 1997. Then the economy had been growing strongly for four years. That did not stop John Major going down to the worst Tory defeat since 1832."
Another poll, by GlobalWebIndex, painted a profile of a "typical" Ukip voter. The poll found they were older people in the community, who are less affluent and not interested in new experiences, other cultures and countries, and they were not likely to purchase environmentally friendly products. They were also less likely to think "it is important for me to feel respect by my peers" than other voters.
Ukip is hoping to win its first seat in parliament on Thursday, at the Newark by-election.