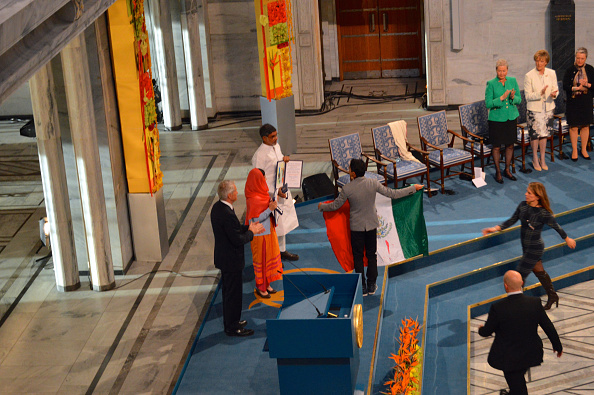 A Mexican man has interrupted the Nobel Peace Prize ceremony in Oslo as Pakistani activist Malala Yousafzai was receiving her award.
The 17-year-old education advocate was being given the price she shared with Kailash Satyarthi, an Indian children's rights activist, when the man stepped onto the stage and, holding a Mexican flag, said: "Please Malala ... Mexico."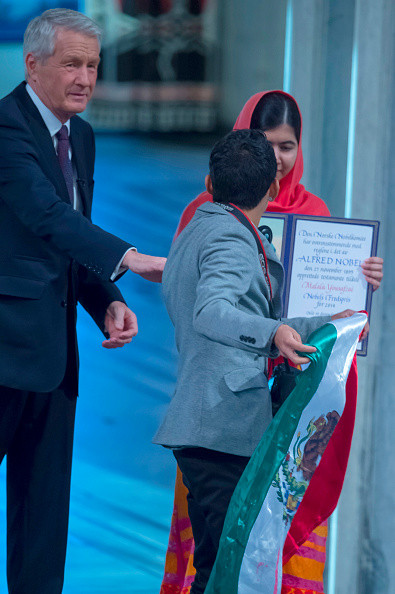 Thorbjorn Jagland and Malala Yousafzai stand by a man who stormed the stage when Malala received her Nobel Peace Prize Award at Oslo City Hall on 10 December, 2014 in Oslo, Norway
Getty Images
The man was quickly approached by security personnel and escorted out.
The reason behind the man's outburst was not immediately clear, but some argued it was related to the case of 43 students who went missing from Iguala, Mexico's Guerrero state, amid suspicions they were handed to gang members by corrupt police with the aid of the then Iguala mayor.
The case has incited violent protests in Mexico where thousand of people are urging the government to step up efforts to find the students and end corruption in the country.
Malala, who is the youngest person to be awarded the Nobel Prize, was shot by the Taliban in 2012 for advocating girls' right to education.
Since the incident, the young activist has become a worldwide symbol for children's entitlement to go to school.
In her speech during the awards ceremony, she urged people not to forget children who are denied education.
"I am here to stand up for their rights, raise their voice. It is not time to pity them. It is time to take action so it becomes the last time that we see a child deprived of education."
She then said the prize was "for those forgotten children who want education. It is for those frightened children who want peace. It is for those voiceless children who want change."
"I will continue this fight until I see every child in school," she added. "I feel much stronger after the attack that I endured, because I know, no-one can stop me, or stop us, because now we are millions, standing up together."
Malala also said she would like to become Pakistan's prime minister, but added that an eventual political career would have to wait until she finishes her education.
Satyarthi said he was "representing the sound of silence" and the "millions of those children who are left behind".
"There is no greater violence than to deny the dreams of our children," he added. "I refuse to accept that the shackles of slavery can ever be stronger than the quest for freedom."