Malaysia: Abandoned jungle trafficking camp reveals grisly remains and human cages [Photos]
Malaysian police forensic teams have begun digging up shallow graves found in abandoned jungle camps where hundreds of victims of human traffickers may be buried.
A badly decomposed body was found unburied in a shack at one of the camps. Police said the unidentified person had been dead for two or three weeks.
"Forensics teams have found one human body so far," said Mohammad Bahar Alias, a senior police official from northern Perlis state. Digging continued at other graves, which police said were marked by sticks or stones. "There are graves all over this area."
Joel Millman, a spokesman for the International Organisation for Migration (IOM), predicted "hundreds more [bodies] will be found in the days to come".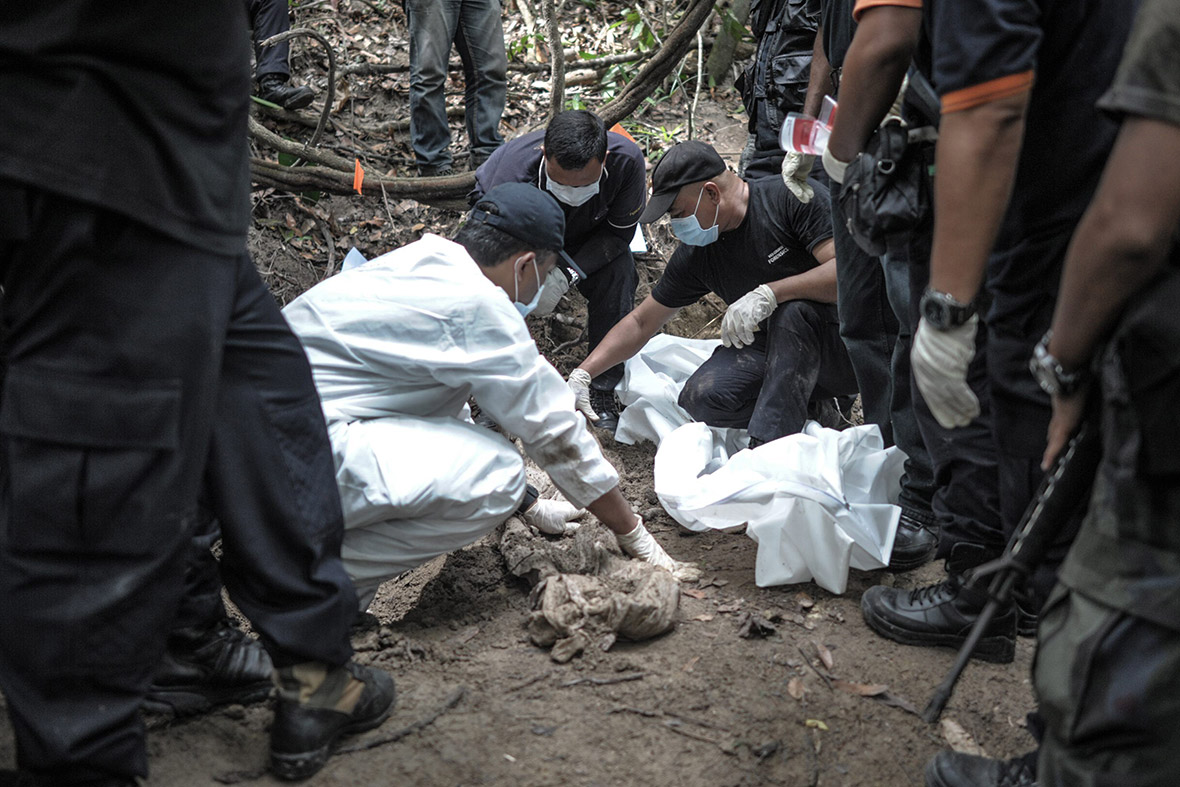 Authorities took a group of journalists to one of the camps, nestled in a gully in thick jungle up a steep, well-worn path about an hour's walk from the nearest road. Apparently abandoned in haste, the camp was little more than a tangle of bamboo and tarpaulin, but an official said it could have held up to 300 people.
Prisoners could be kept alive with water from a stream running through the gully where the now-abandoned camp was nestled. A Reuters journalist who toured the camp said a Muslim call to prayers could be heard, indicating it was not too far from a village, where the guards may have bought food to keep their prisoners alive.
There were signs of brutality, including coils of barbed wire around what appeared to have been makeshift cells in a jungle prison, and a low cage, too small to stand in, that police said may have been used to punish captives.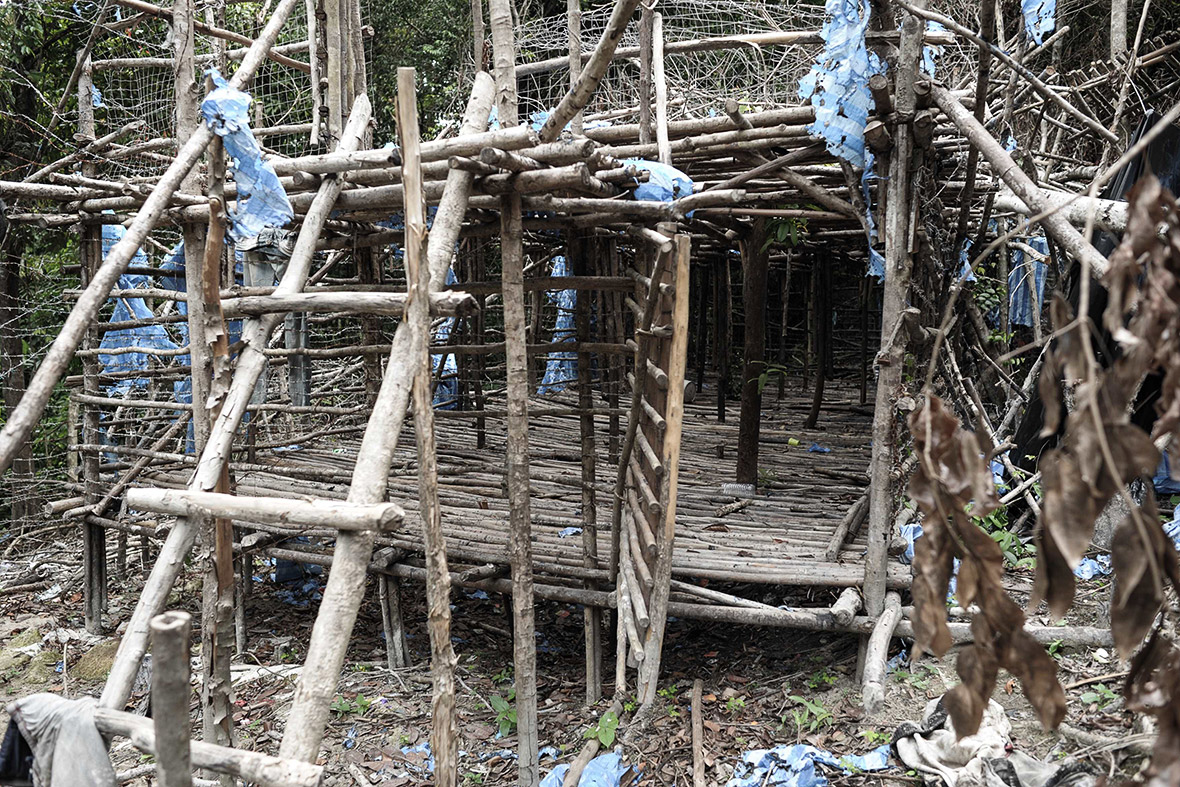 The camp also contained a watch tower and a cooking area littered with dishes and pots.
Authorities pointed out what looked like the skeletal remains of a jaw on the ground. "We think it belongs to a human," said Mohammad Bahar.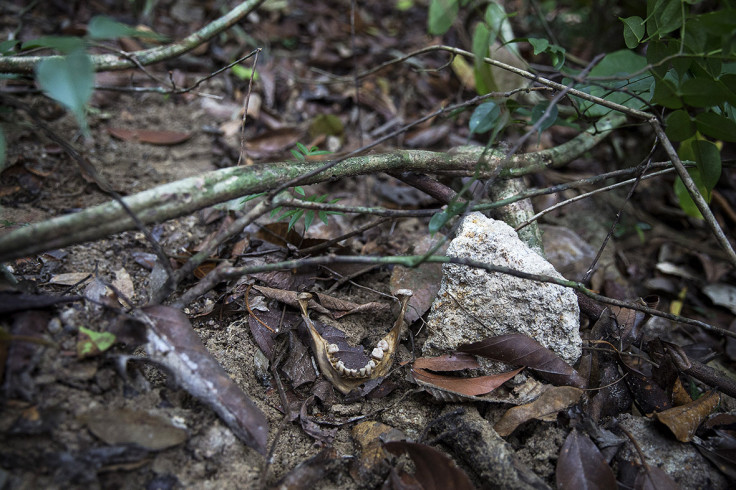 Among the items of clothing found around the camp, a tiny orange slipper was discovered partly buried on a nearby slope, indicating that children were also held at the camp.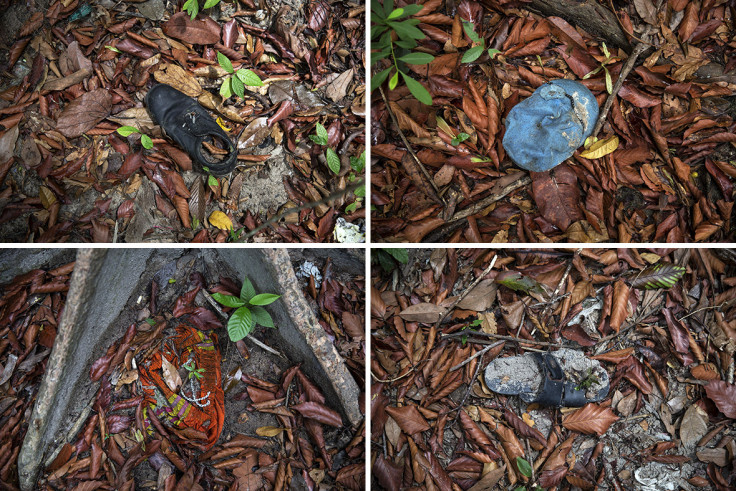 A large plastic water tank could be seen, suggesting a degree of permanence. Police photographs of other camps in the area showed an abandoned generator, makeshift kitchens that could cook for hundreds of people, and evidence that crops were being grown – all signs that the camps had been there some time.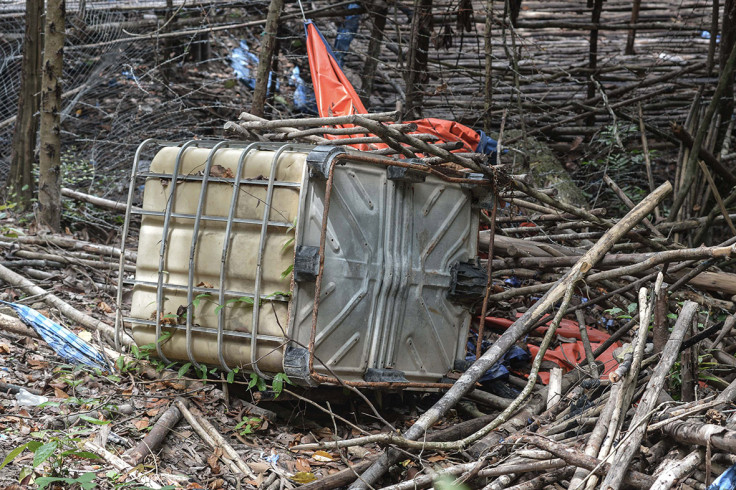 The scale of the discoveries has raised questions about the level of complicity by officials on both sides of the border. Malaysian Home Minister Zahid Hamidi said police are probing the possibility that government officials, including some from the Forestry Department, may be involved in the human trafficking syndicates. He said several people have been detained and are under investigation, but didn't provide further details.
The area along the Thai-Malaysian border has been used for years to smuggle migrants and refugees, including members of Myanmar's persecuted Rohingya Muslim minority and impoverished migrants from Bangladesh.
In many cases, they pay human smugglers thousands of dollars for passage, but are instead held for weeks or months while traffickers extort more money from their families back home.
Residents in Wang Kelian, the nearest town on the Malaysian side of the border, said they were used to seeing migrants in the area."They are often starving, not eaten for weeks," said Abdul Rahman Mahmud, who runs a small hostel. "They eat seeds or leaves or whatever they can find."
© Copyright IBTimes 2023. All rights reserved.