Malaysia Airlines Flight MH17: Australia Threatens Vladimir Putin With G20 Ban
Australian politicians say Russian president should not attend G20 summit if he fails to cooperate with MH17 plane crash investigation.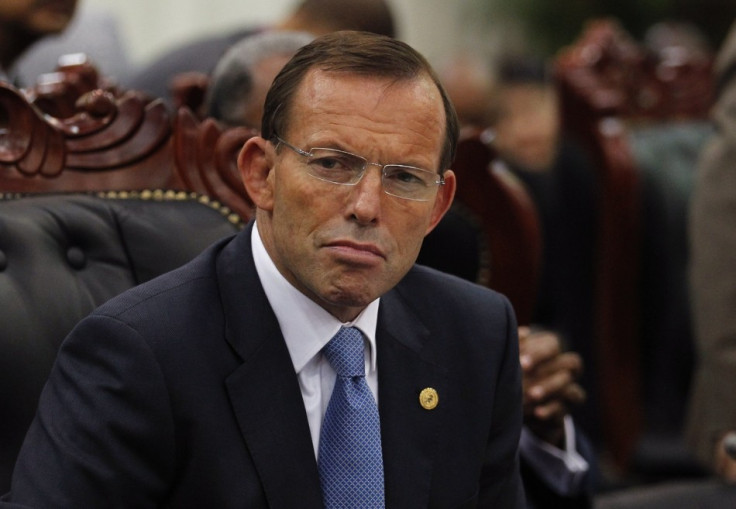 Australia has reportedly threatened to block Russian President Vladimir Putin from attending a G20 summit in November if Moscow does not cooperate with an investigation into the MH17 plane crash.
Australian Prime Minister Tony Abbott expressed outrage that Russian-backed rebels were attempting to prevent investigators from accessing the crash site, and demanded that a full investigation take place into the incident in which 28 Australians were killed.
"Frankly anyone who tries to obstruct this is no friend of justice and is no friend of peace," Abbott said.
Asked if Putin should be allowed to attend the G20 summit, which is being hosted by Australia as chair of the bloc, Abbot replied: "Let's wait and see what will happen. Australia takes a very dim view of countries which facilitate the killing of Australians.
"We are a self-respecting country and obviously we want to ensure that visitors to this country have good will to this country. Visitors to this country are people who have done the right thing by this country and let's hope that is what we will find in the weeks and months ahead."
Bill Shorten, leader of the opposition Labor Party and Campbell Newman, Premier of Queensland, the state where the summit will be held, said Putin's attendance should be contingent on Russia facilitating an investigation into the crash.
"Queenslanders, I think, would expect Mr Putin and the Russian government to fully co-operate with this independent, international investigation," Newman told the Nine Network.
"If we start seeing them failing to co-operate – we've heard that they're not providing access at this time – if that continues, I think I can speak for all Queenslanders and say at that point he's probably not welcome."
Michael Bociurkiw, a spokesman for the Organisation for Security and Co-operation in Europe, said his team had been prevented from gaining access to the crash site by pro-Russian rebels.
The 25 observers withdrew after just over an hour when they were unable to set up an access corridor for specialist teams to investigate the crash.
"A visibly intoxicated armed guard fired his rifle in the air when one of the observers walked out of the prescribed area," Bociurkiw told journalists.
© Copyright IBTimes 2023. All rights reserved.