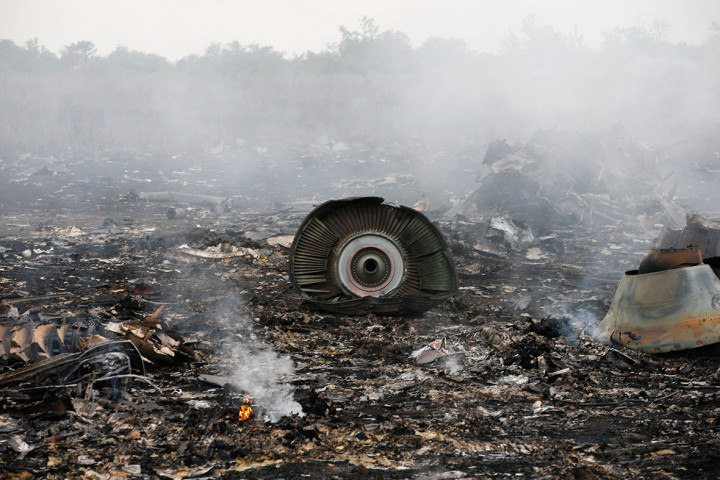 The husband of a woman who swapped her shift on the missing Malaysia Airlines Flight MH370 was on board MH17 when it crashed in eastern Ukraine, it has been revealed.
On 8 March, Sanjid Singh's wife changed her original shift as a flight attendant on the Boeing 777 that vanished without trace on route to Beijing from Kuala Lumpur. She agreed to swap shifts with a colleague who wanted to fly to Beijing.
Sanjid's father, Jijar Singh, 71, told the Malaysian Insider that his son had called to say that he had swapped a shift to get on board flight MH17, to fly home to Kuala Lumpur.
"He told us recently that he swapped with a colleague for the return Amsterdam-Kuala Lumpur flight," said Singh.
"He always called us before he leaves for his trip. He was supposed to come here at noon after he returns from Amsterdam this morning. His mother had prepared all his favourite dishes."
"Sanjid's wife was meant to fly on MH370 but swapped with another colleague at the last minute," he said.
Sanjid, 41, was among the 15 crew members who perished in the plane crash. Sanjid's older sister had informed their parents of the incident.
"I have undergone two heart bypasses," Jijar explained. "Our daughter waited until 4am to tell us. She dare not tell us earlier. I am 71 and she (Sanjid's mother) is 73. We are in such a state. My whole body is shivering.
"We are heartbroken because he was our only son. What to do? What has happened, has happened."
Malaysia Airlines lost contact with Flight MH17, which was travelling from Amsterdam to Kuala Lumpur, at 14.15 GMT on Thursday.
It was originally reported that there were 280 passengers and 15 crew members on board the Boeing 777, but the airlines revealed on Thursday night that three more infants, two citizens of Malaysia and one Indonesian child, had also been on the plane and are presumed dead.
It is believed a ground-to-air missile launched by pro-Russia rebels brought down the airliner.
MH17 was flying just 1,000 feet above restricted airspace when it was shot down, according to Eurocontrol the European air traffic control body.
Eurocontrol said Ukrainian authorities had barred aircraft from ground level to 32,000 feet but the doomed aircraft was cruising at 33,000 feet, still within range of sophisticated ground-to-air weaponry, when it was hit. All flights in eastern Ukraine have now been barred from the area, Eurocontrol added.
A partial breakdown of passenger nationalities was released early on Friday, showing that 178 Dutch nationals, 44 Malaysians and 27 Australians were on board, along with nine passengers believed to be from the UK, four each from Germany and Belgium, three from the Philippines, one Canadian and 20 unverified.
The names of passengers who perished on MH17 are emerging, as it was revealed a group of international HIV/Aids experts bound for the 20th International AIDS Conference in Melbourne conference were among those feared dead.
Leading HIV researcher and father-of-five Joep Lange was aboard the flight from Amsterdam. HIV researcher Dr Lucie van Mens, Martine de Schutter, of AIDS Action Europe, Pim de Kuijer and Jacqueline van Tongeren were also on the aircraft, as was the World Health Organisation's Glenn Thomas.
Chinese-language Malaysian news source Sin Chew has released the names of the 15 crew members on MH17.
The list is as follows:
Captain: Wan Amran Bin Wan Hussin (male, 50)
Captain: Eugene Choo Jin Leong (male, 45)
Vice- captain: Ahmad Hakimi Bin Hanapi (male, 29)
Vice- captain: Muhamad Firdaus Bin Abdul Rahim (male, 27 )
Mohd Ghafar Bin Abu Bakar (male, 54)
Dora Shamila Binti Kassim (female, 47)
Azrina Binti Yakob (female, 41)
Lee Hui Pin (female, 42)
Mastura Binti Mustafa (female, 40)
Chong Yee Pheng (female, 40)
Shaikh Mohd Noor Bin Mahmood (male, 44)
Sanjid Singh Sandhu (male, 41)
Hamfazlin Sham Binti Mohamed Arifin (female, 42)
Nur Shazana Binti Mohamed Salleh (female, 31)
Angeline Premila Rajandaran (female, 30)