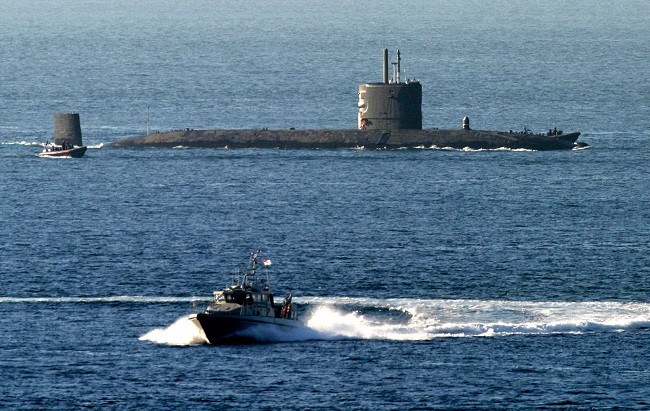 The Royal Navy submarine HMS Tireless has arrived in the Indian Ocean to help with the search of missing Malaysia Airlines flight MH370.
The vessel will try to find the plane's black box recorder in a search area of around 98,000 sq miles off Perth, Australia. It could hold 'key' information into how the plane went down.
But investigators only have until April 7 to find the box before the locator signal ends.
HMS Echo is also due to join the international search operation on Wednesday.
A defence source said: "A Royal Navy Trafalgar Class submarine has recently arrived in the area and is conducting search operations for the flight recorders.
"She was ordered to move from an operational tasking to the search area around a week ago and arrived on station on Monday.
"HMS Tireless holds advanced search capabilities, but the task in hand remains a tall order and the search area is immense."
Britain's defence secretary Philip Hammond told his Malaysian counterpart Hishammuddin Hussein in a telephone call on Tuesday evening that the submarine had arrived in the Indian Ocean.
Sky's defence correspondent David Bowden said the submarine was a key player in the search.
"Why is she a key element? Because searching from the surface creates problems, not only with the depth, but also with distortion of images."
"If you're underneath (the water), and you are looking up or along, and if you see anything, you're much closer to it.
"It (the submarine) can go deep and it can listen out for the black box recorder."
Its arrival comes as Malaysian authorities this week have tried to downplay the misleading information that was released over the pilot's final message to ground controllers. Captain Zaharie Shah now said 'Goodnight, Malaysian 370' instead of 'All right, goodnight'.
Authorities said on Tuesday that this did not indicate "anything abnormal".
Meanwhile, Hussein hit back at criticism over his country's handling of the crisis and told Chinese TV: "Just putting MAS [Malaysia Airlines] on the witness stand [is not enough].
"We also need to bear in mind what is the role and responsibility of Rolls-Royce, of Boeing, of all these expert agencies. Where is their voice?"