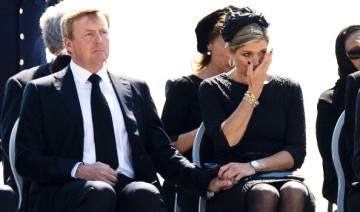 Russian newspaper Novaya Gazeta used its front page today to apologise to grieving families in the Netherlands who have lost loved-ones in the MH17 disaster.
The anti-Putin paper entitled its moving edition: 'Vergeef ons, Nederland' – 'Forgive us, Netherlands'.
The sombre image with falling white carnations shows the huge convoy of hearses – bearing the victims' remains – on their way to Hilversum for forensic identification after arriving at Eindhoven airport.
Queen Maxima of the Netherlands was overwhelmed with grief as she watched the arrival of the plane carrying the victims's bodies at the airport. The Netherlands declared Wednesday the country's first day of mourning in more than half a century.
The Novaya Gazeta is known for its liberal anti-Moscow position when covering the country's political and social affairs. Four of their high profile journalists, including the staunchly anti-Putin Anna Politkovskaya, have been murdered since 2001.
Its touching tribute follows Russia's denials that separatists were to blame for the shooting down of the Boeing 777 which claimed 298 lives, of which 154 were Dutch nationals.
Russia's ambassador in London, Alexander Yakovenko, said Ukraine and the US claims did not "hold water" concerning Moscow and the pro-Russian separatists were behind the downing of the plane on July 17.
In an exclusive Reuters interview, however, Alexander Khodakovsky, Ukrainian rebel and commander of the Vostok Battlion said pro-Russian separatists, namely the Lugansk People's Republic, had an anti-aircraft missile similar to the Buk missile that could have been responsible for the shooting down of MH17.
He said the missile attack could have been used in retaliation for earlier air strikes in the area ordered by Kiev.
But Khodakovsky rejected his story hours after it was published.