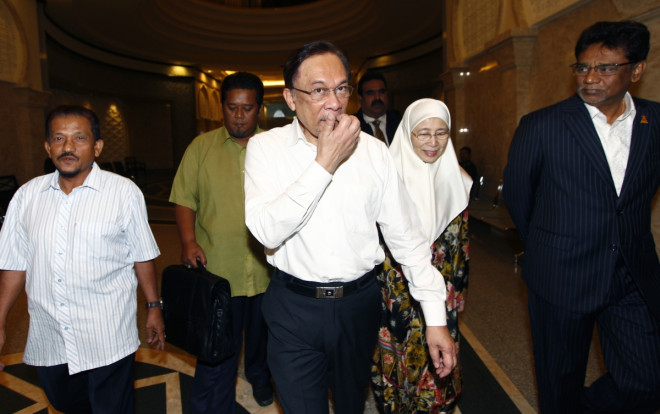 As the search continues to find missing flight MH370, the Malaysian government has been hit with further controversy and is being accused of covering up information surrounding its mysterious cargo on board.
The country's opposition leader Anwar Ibrahim, who was jailed for five years after being charged with sodomy, believes the flight manifest has been deleted by "people in authority".
Ibrahim told ABC's Four Corners programme the government must explain in a transparent manner whether information on the manifest was deleted as confidential sources had told him.
"You can't expect the international community to have this huge search and rescue operation to find the debris... we have to know what is the cargo on the flight," he said.
But the government has hit back saying it released MH370's full manifest on May 1, which showed the cargo included four tonnes of mangosteen fruit and lithium batteries. It accused Ibrahim of trying to smear his country's reputation further in the media.
A spokesman said: "The cargo manifest allegation is just the latest attempt by Anwar Ibrahim to exploit [the] MH370 tragedy and damage Malaysia's reputation for personal political gain."
But in a statement to E&T magazine, the airline said the 2,453kg of cargo was a mixture of batteries and radio accessories and charges. The latter, however, which was not documented in the cargo manifest and was not stated by the carrier after the plane disappeared on March 8.
Penang-based NNR Global Logistics (Malaysia), which handled the shipment told E&T the batteries made up only a small portion of the consolidated cargo.
A company spokesman declined to comment further because of the ongoing investigations into the missing aircraft and the airline had been instructed by its solicitors to not divulge details of the cargo.
There were also strict instructions on the manifest that the batteries should be handled with care and that there was a flammability hazard. But Malaysia Airlines insists it packed the batteries in accordance with international safety regulations and dismissed, along with
The Department of Civil Aviation and the Ministry of Transport, the flammability issue was the likely cause of the plane's loss.
British satellite company Inmarsat is due to release information to the public explaining the technology used to reach the conclusion the flight ended in the Indian Ocean.