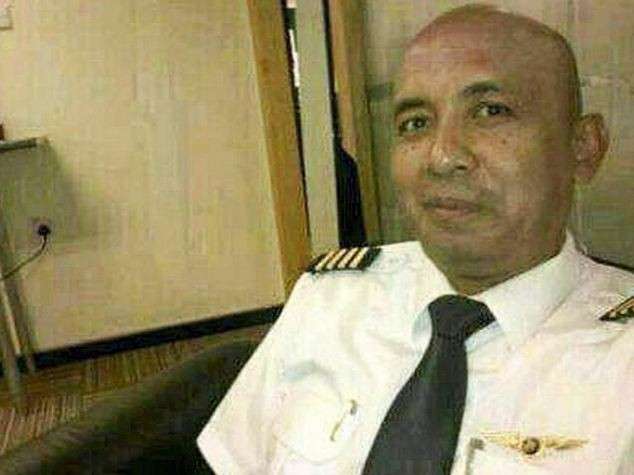 The daughter of Malaysia Airlines MH370 has accused the Daily Mail of "making up" a report in which the paper quoted her saying her father was unstable before the flight.
The Daily Mail article, which was published last week, stated that family members described captain Zaharie Ahmad Shah as being "disturbed".
Yet Aishah Zaharie, the captain's 28-year-old daughter, said the report was unsubstantiated. According to the Malaysian Insider she posted on her Facebook page: "Dear Daily Mail... You should consider making movies since you are so good at making up stories and scripts out of thin air.
"May God have mercy on your souls. You can bet your ass I will not forgive you."
Authorities are currently investigating the backgrounds of Shah, 53, and his co-pilot Fariq Abdul Hamid, 27, over the disappearance of the Malaysia Airlines flight on 8th March. Malaysian police have also questioned the families of other crew members, yet no evidence has emerged to implicate anyone.
In the article, Aishah was quoted as saying: "He wasn't the father I knew. He seemed disturbed and lost in a world of his own."
It also alleged that Shah was "on the brink" of divorcing his wife of 30 years, Faizah Khanum Mustafa Khan.
Khan reportedly told the Mail on Sunday that her husband had stopped speaking to her in the weeks before the fateful flight, as he had "retreated into a shell" and spent long periods building a flight simulator in his room.
According to the Malaysian Chronicle, however, Khan was quoted as saying it was "unfair to blame" her husband.
The Daily Mail also claimed that captain Shah had expressed "utter frustration" at the jailing of his political hero, Anwar Ibrahim, just hours before the flight. Before flight MH370 took off, Anwar, the Malaysian opposition leader, was convicted of sodomy. He stated the case was fabricated to ruin his political career and faces five years imprisonment, although he is appealing the verdict.
A tribute page, called Friends of Captain Zaharie MH370, has been set up by a schoolmate of the captain and has attracted over 25,000 followers since the Daily Mail report was published.
Captain Shah's son, 26-year-old Ahmad Seth, has also dismissed wild theories proposed by the media. He told Malaysia's New Straits Times: "I've read everything online. But I've ignored all the speculation. I know my father better. We may not be as close as he travels so much, but I understand him."
FLIGHT MH370 FACTBOX

Flight MH370 took off from Kuala Lumpur International Airport en route to Beijing at 00:41 on Saturday 8 March (16:41 GMT Friday).

About 50 minutes later, the aircraft lost contact with air traffic control.

No distress call was made.

On board, there were 12 Malaysian crew members and 227 passengers from 14 countries. That included 153 Chinese and 38 Malaysians.

Two Iranian male passengers, Pouria Nour Mohammad Mahread and Delavar Syed Mohammad Reza, were travelling on fake passports. Neither had any apparent links to terrorist groups.

No debris from the plane has been found in the international search.

Last confirmed communication with Indian Ocean satellite occurred at 08:11am, meaning plane continued to fly for seven hours after radar signal was lost.

At least 25 countries, including China, the US and Singapore, have now joined in the search for the missing plane.