A Chinese tourist who survived the boat capsize in Malaysia which claimed the lives of three others has spoken of her ordeal as she recovers in hospital. Yang Yaoru and co-passengers held on to the body of a friend for several hours as they waded through the cold waters of the South China Sea.
Yang was one of the 27 Chinese tourists and three crew members on board the catamaran that sank on 28 January off Sabah state in North Borneo. They were on a leisure cruise to celebrate Lunar New Year and were headed to the popular Malaysian holiday island of Mengalum.
"At that time we realised the boat was leaking. And very, very quickly, within three minutes, the entire boat flipped over. All of us jumped into the sea wearing our life jackets," she told China's state broadcaster CCTV.
She described how a group of them huddled together to ward off the cold waters and to get the attention of any passing ship. She added that everyone worked together to be rescued.
"We had a bag. We found a bottle of water and some food in it. But actually at that moment, everyone shared everything. There was no one who discovered there was water and then just drank it or only give it to their families. We really all just had a tiny sip each and saved the water for the really small children," Yang said.
Speaking from the hospital bed, the 24-year-old said that she was especially concerned about her mother, who is not a good swimmer.
"If I had died, my mother couldn't have survived by herself...I must bring my mother home," Reuters quoted her as saying.
Fellow survivor Fan Li Xia said that the group had life jackets on, but were swept away by the current and had to struggle for more than 30 hours to be rescued.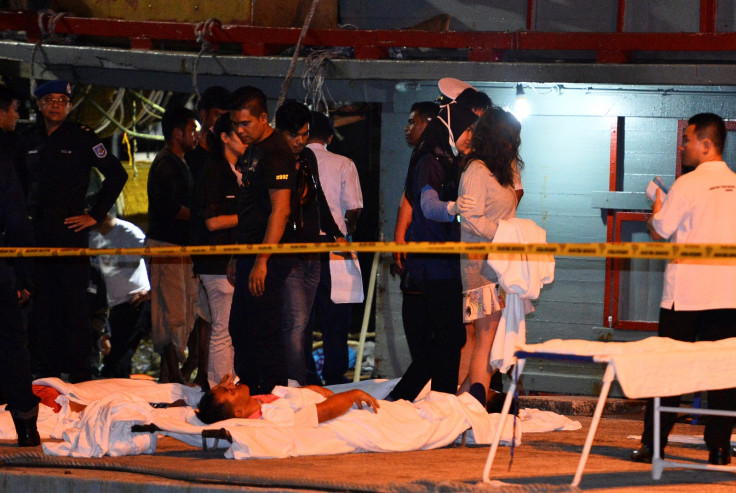 "If we were found any later, I don't think I would have survived. My friend died. We dragged his body around for half a day, but we couldn't manage any more so we had to let it go," she said.
Fan is receiving treatment at a hospital in Kota Kinabalu, the capital of Borneo.
Three of the Chinese tourists were found dead on Sunday (29 January) while 22 others were rescued – including the boat's captain. However, four tourists and a crew member are reported to be missing. Those who survived were bleeding and were heavily sunburned when they were rescued by fishermen and tugboats, Reuters reported.
The Malaysian Maritime Enforcement Agency said that military ships and aircraft were searching the waters for those missing.
Local media reported that police had arrested the owner of the boat and two crew members following the incident and were being investigating the matter.