Malaysia witnessed massive protests on Saturday, 19 November, by an anti-government yellow army and a pro-government red brigade. The two groups marched across capital Kuala Lumpur — one demanding the resignation of Prime Minister Najib Razak and the other opposing the demand.
The anti-government protests were sparked after the prime minister was named in a multi-billion dollar misappropriation scandal. Pro-democracy group Bersih, which represents a group of non-governmental organisations, organised the protest rally.
People in thousands, wearing yellow T-shirts in support of Bersih, walked the streets of the capital with drums and vuvuzelas. They were shouting slogans seeking a corruption-free clean Malaysia. Police said the protests by both groups were illegal.
The head of Bersih was reportedly arrested just hours ahead of the rally. The arrest, however, failed to dampen the spirits of the protestors who continued their march across the city.
"We are not here to bring down the country. We love this country! We are not here to tear down the government, we're here to strengthen it," Bersih deputy chair Shahrul Aman Shaari told the crowds gathered at the National Mosque.
Red Shirts – the group of Najib supporters – also marched from the headquarters of the ruling United Malays National Organisation party towards Dataran Merdeka, or Independence Square.
The Najib government had reportedly deployed close to 7,000 policemen to prevent any untoward incidents during the protest marches. The Malaysian Times reported that police barricaded the area around Independence Square where the Bersih protesters had planned to converge.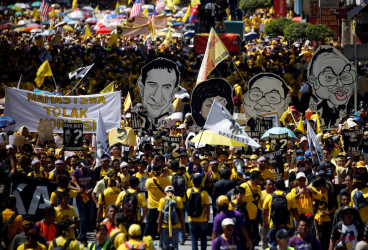 Meanwhile, the police arrested Bersih leader Hishamuddin Rais at the protest area and Jamal Yunos, the leader of the Red Shirts, Reuters reported.
Despite the ongoing unrest in the country, the prime minister remains firm on not surrendering to the demands of resignation. In a speech uploaded on his website on Friday (18 November), he blamed the opposition parties for causing the turmoil.
"Their movement is deceitful. It is clear that these street protests are in fact the opposition disguised as an independent NGO working to unseat a democratically elected government," Najib reportedly said.