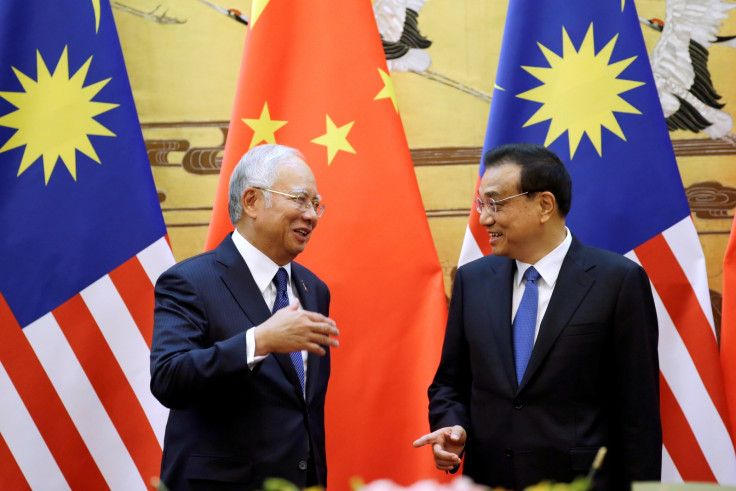 Malaysian Prime Minister Najib Razak is facing opposition from his own party members after he signed multi-billion dollar deals with China amid ongoing territorial dispute over the South China Sea. He is being accused of trying to "sell off" the country to Beijing.
During his six-day visit to Beijing, Najib signed as many as 14 deals worth $34bn (£27.4bn) and agreed to buy naval vessels from China, a move that is reported to resemble Philippine President Rodrigo Duterte's suit. The recent agreement is thought to be Malaysia's first significant defence deal with the communist country.
The concern over Najib leaning towards Beijing was raised by Malaysia's Malay-Muslim majority who form the support base for the ruling United Malay National Organisation (UMNO). The group allegedly has distrust of the Chinese, Reuters reports.
The UMNO leaders have said they expect Najib to soon brief the party about the deals he signed with Beijing to alleviate any fears they have about China's rising influence in the country, according to Shahidan Kassim, a senior member of the party's supreme council and a federal minister.
While Najib has defended that he never tried to sell off Malaysia to China, Shahidan said signing agreements with Beijing has its "pros and cons".
Irmohizam Ibrahim, a member of UMNO's policy-making committee and Najib's strategic director in the party, too said that deals with China have stoked apprehensions among the party members.
"We're expecting the prime minister to address these issues at our next Supreme Council meeting," Irmohizam told Reuters. "We will then need to go down and explain to the grassroots that ... the deals are purely for the economy and trade."
Another Malaysian opposition leader Anwar Ibrahim said: "Malaysia's economic dependence on any single nation is unreasonable and will affect the country's freedom and geo-political strategy and foreign policy."
The prime minister defended the bilateral ties and also dismissed the concerns. He said in a statement: "Some have scaremongered that Malaysia is being sold off. This is absurd and absolutely false."
The deals also include funding for infrastructure projects in Malaysia. Najib has assured that these projects will remain owned and operated by Malaysians. Besides, Kuala Lampur has agreed to purchase up to 10 Littoral Mission ships from the communist government, while the US has been its traditional military alliance.
Najib's shift in focus is said to have resulted after his ties with the US turned sour following the investigation into the 1MDB funding scandal that rocked the Malaysian government.