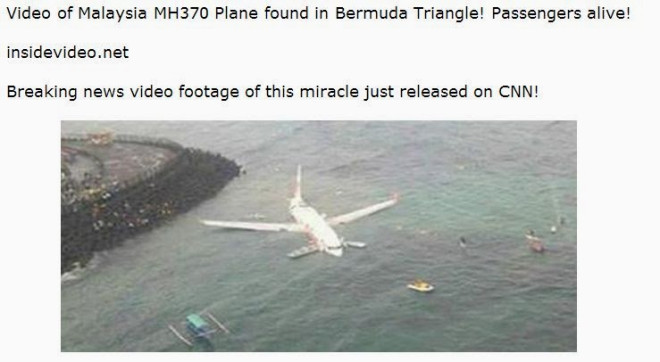 Videos claiming to show the missing Malaysian Airlines Flight MH370 which are being shared on Facebook are scams.
The posts on Facebook are fake and clicking on them will results in a deluge of spam posts being published on your timeline as well as potentially compromising the security of your computer.
Two videos have been reported so far, with the titles:
Malaysian Airlines Finally Found!
Video of Malaysia MH370 Plane found in Bermuda Triangle! Passengers alive!
with both asking Facebook users to like and share the link before being able to view the video.
Using social media platforms to false videos or stories is nothing new, with cybercriminals quick to jump on popular stories in order to drive traffic to a specific website or spread malware through infected websites.
Facebook's advice is pretty straight forward and sensible:
"Think before you click. Never click suspicious links, even if they come from a friend or a company you know. This includes links sent on Facebook (ex: in a chat or post) or in emails. If one of your friends clicks on spam they could accidentally send you that spam or tag you in a spammy post. You also shouldn't download things (ex: a .exe file) if you aren't sure what they are."
Nothing new
This is not a new attack method for cyber-criminals with scams such as this typically following major international news stories.
The cyber-criminals are looking to take advantage of the huge interest online and on social media platforms in the missing Malaysian Airlines plane which went missing en route from Kuala Lumpur to Beijing on Friday last, with 239 passengers and crew on board.
Last year in the wake of the Boston Marathon bombings, cybercriminals began sending out spam emails embedded with malware with subject lines such as Boston Explosion Caught on Video and Video of Explosion at the Boston Marathon 2013.
In December of last year a similar campaign was launched on the back of the death of Paul Walker.
Within hours of his death being reported on the internet, security company Symantec observed spam emails featuring the name of the actor as an attempt to capitalise on the highly searched topic of his death and those looking for details of his autopsy online.