At least 27 people have been found dead at the Radisson Blu hotel in the Malian capital of Bamako following a deadly stand-off between the al-Qaeda linked group Mourabitoun and Malian security forces and UN peacekeepers after the jihadists stormed the building and started taking hostages.
UN peacekeepers in Bamako said they counted 27 dead at the hotel after the Mourabitoun militants initially seized 140 guests and 30 employees. One Belgian politician, Geoffrey Dieudonne, has been confirmed as among those killed in the siege.
French RFI radio reported that three attackers arrived with diplomatic cars and started shooting in the hotel's gardens before entering the building. An unconfirmed number of guards, clients and employers were allegedly killed in the initial shooting.
The international clientele of the hotel were released throughout the day-long siege, which saw the French Special Forces, dispatched from Burkina Faso, alongside Malian Special forces confronting the Jihadists.
Businesses and shops around the luxury standard Radisson Blu were evacuated as the upper-class district surrounding the hotel were put on lock-down.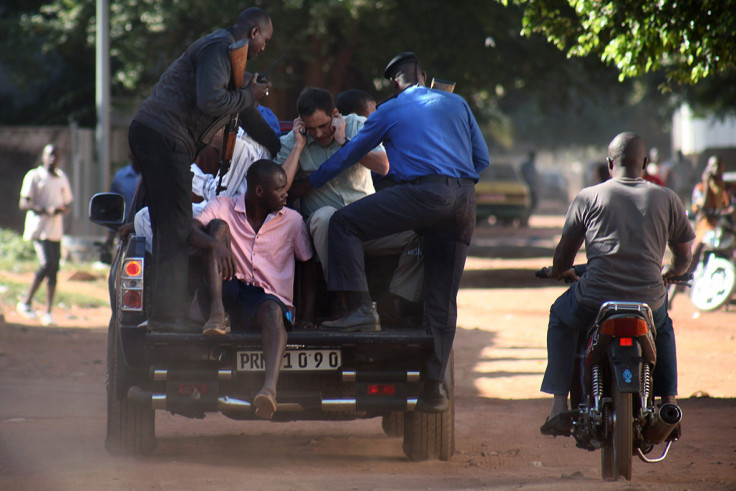 An assault on the hotel at around midday saw 80 of the hostages released. US forces were able to extricate six US citizens within the building.
Responsibility for the attack was claimed by Mali's al-Mourabitoun, led by arch-jihadist Mokhtar Belmokhtar, who is responsible for a series of terrorist attacks across North Africa including the 2013 assault on the In Amenas gas facility when 39 people were killed.
The al-Qaeda-affiliated group claimed responsibility for the attack and hostage-taking in a message posted on Twitter, Reuters reported. The group said it would release hostages on the condition that all its fighters held in Bamako prison were released.
An international NGO worker told IBTimes UK, speaking on condition of anonymity, that there could be no doubt the choice of the Radisson Blu Hotel in a relatively new and upmarket area of the city meant the attackers were targeting Bamako's international elite. He said prior to today's attacks security had been generally improving after an assault on a restaurant in March left five dead.
Security forces have successfully managed to evacuate all the remaining hostages from the Radisson Blu but according to the most recent reports a small number of fighters have yet to be flushed out.