Gunmen stormed a luxury hotel in Mali's capital Bamako on 20 November. Shouting Islamic slogans, the attackers entered the Radisson Hotel leaving at least three people dead. About 170 people have been taken hostage, according to security forces on the scene.
French RFI radio reported that three attackers arrived with diplomatic cars and started shooting in the hotel's gardens before entering the building. An unconfirmed number of guards, clients and employers were allegedly killed in the shooting according to Jeune Afrique news site.
AFP reports that the attack happened on the seventh floor of the hotel, which has a capacity of 190 rooms and hosts many foreigners. "Jihadists are firing in the corridor," their source said.
A spokesperson for the Carlson Rezidor group, which runs the hotel, told NBC news that gunmen took at least 170 people hostage at the hotel. "They have locked in about 140 guests and about 30 employees. So the hotel is locked down and there is no possibility to go out or come in." The hotel management is working to establish the names and nationalities of those caught in the hostage situation.
LIVE UPDATES
4:54pm Special forces are still trying to dislodge gunmen from the upper floors of the hotel
4:21pm U.N. peacekeepers on scene at Mali hotel saw some 27 bodies
3:58pm Two hostage-takers have been killed inside the hotel in Bamako.
3:48pm There are now multiple reports that all the hostages have been freed. A Malian official told BFM TV that there are no more hostages being held at the hotel.
3:37pm A security source has said that 18 bodies were found at Radisson Hotel. This is not confirmed by authorities.
AFP reported that the gunmen are "holding no more hostages".
3:35pm Belgian regional assembly says one of its officials named as Geoffrey Dieudonne died in Bamako hotel siege.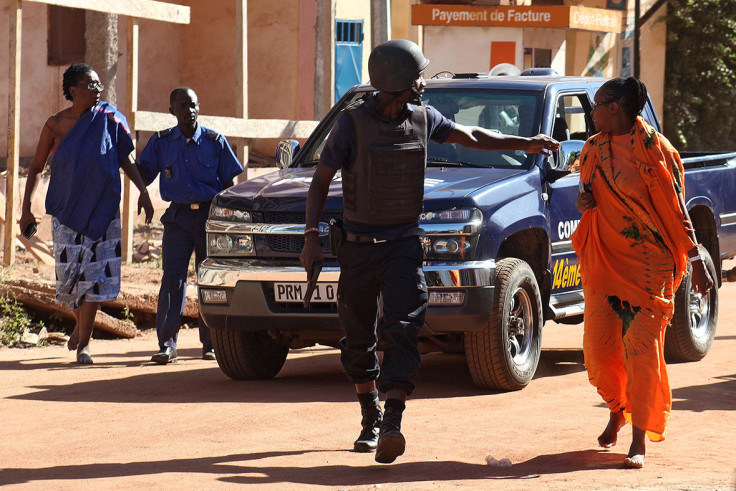 3:26pm Al-Mourabitoun told Al Jazeera that the attack was coordinated with AQIM (Al-Qaeda in the Islamic Maghreb)'s Sahara Emirate.
The group said it will release hostages at the condition that all "mujahedeen" in Bamako prison are freed.
3:00pm Al Qaeda-affiliated African jihadist group 'al Mourabitoun' has claimed responsibility for the attack and hostage-taking situation at the Radisson Hotel in Bamako.
The group, formed by Tuaregs and Arabs, posted a message on Twitter saying it was behind the attack.
2:38pm An international NGO worker has told IBTimes UK that information is hard to come by on the ground and that he, like many in Bamako, is glued to the television news.
Speaking on condition of anonymity because he was not authorised to brief the press, he said there could be no doubt that in choosing the Radisson Blu Hotel in a relatively new and upmarket area of the city that the attackers were targeting Bamako's international elite.
He said prior to today's attacks security had been generally improving after an assault on a restaurant in March left five dead.
2:29pm Six Americans have been moved from the hotel attack by US forces, according to the US Africa command.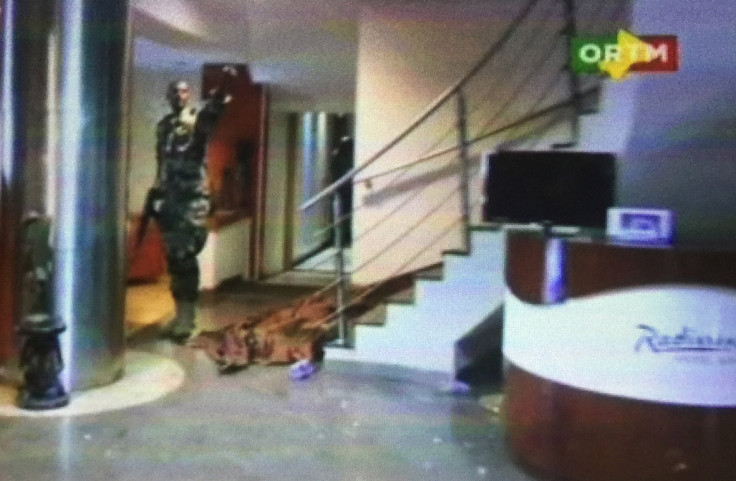 2:11pm IBTimes UK's Elsa Buchanan has outlined the history of Islamist insurgency in the former French colony.
1:37pm Rezidor Group, which runs the hotel, says 124 guests and 13 staff are still inside the Radisson.
1:31pm Famous Guinean singer Sekouba 'Bambino' Diabate, who was freed by Malian security forces, told Le Monde that the attackers spoke English with a Nigerian accent
"I heard them say in English 'Did you load it?', 'Let's go' he said."
"I was in my room 427, at the 4th floor, when I heard very strong and violent shots fired. At the beginning I thought they were petty criminals. But after listening to the power of the shots, I realised that they were war weapons"
12:48am Reuters reports that released hostages heard the attackers speaking with each other in English.
As the siege continues some 90 hostages remain unaccounted for. A witness told the news agency: "The attackers are still inside. We're hearing gunfire from time to time."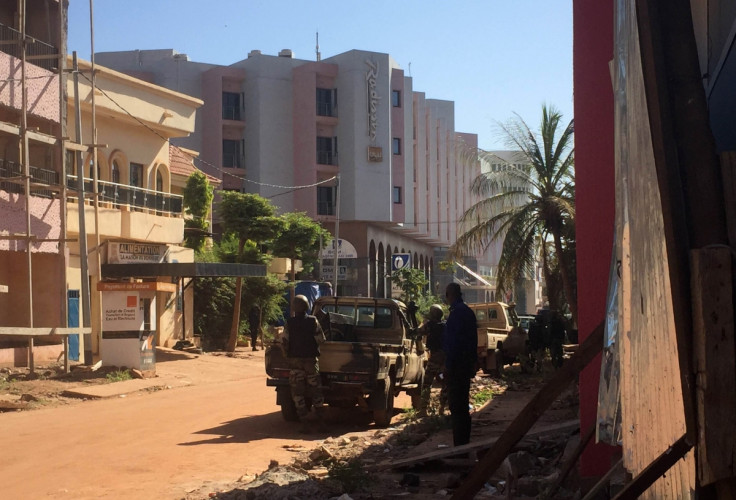 12:29am Air France flights to and from Bamako on Friday have been cancelled, the French airline said in a statement.
12:20am A source on the ground in Bamako told IBTimes UK that local media confirmed the release of 80 of the hostages. He said violence of the kind being experienced in the Malian capital was "truly unusual" and added that as of yet, as far as he was aware, no individual group had claimed responsibility for the attack.
12:18am The assault that led to the release of 80 hostages has been led by French and US special forces, according to Liberation.
12:12am Air France confirms that 12 of its crew members were at the Radisson Blu hotel during the attack but have been freed:
12:10am The French elite GIGN anti-terror unit is on its way to Bamako:
11:57am Malian public television is reporting that 80 hostages have been freed from the hotel in a special forces operation. A web developer who lives close to the facility in Bamako has confirmed the figure to IBTimes UK. No official confirmation has come from local authorities yet.
11:54am This picture from France 24 shows the hotel's windows shattered:
11:44am Reuters confirms that Malian special forces, who have received logistic support from French troops on the ground, have penetrated inside the hotel.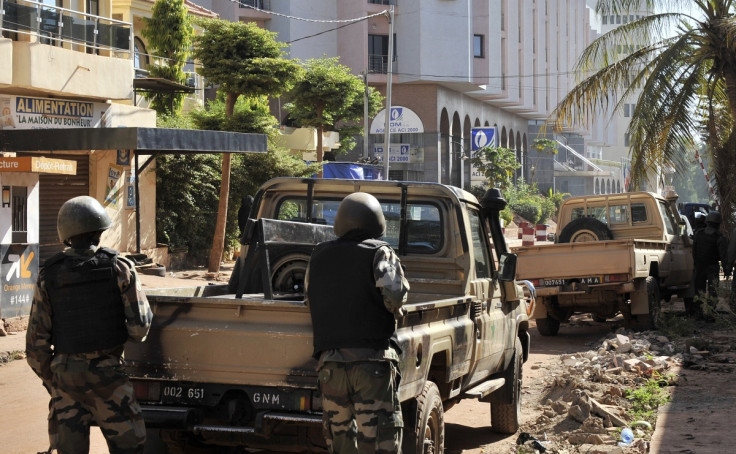 11:39am A Chinese hostage trapped inside the hotel has filmed the early stages of the assault:
11:28am The UN force in Mali has just tweeted a statement on the Bamako attack:
11:23am Five out of six Turkish airlines employees held hostage have been released.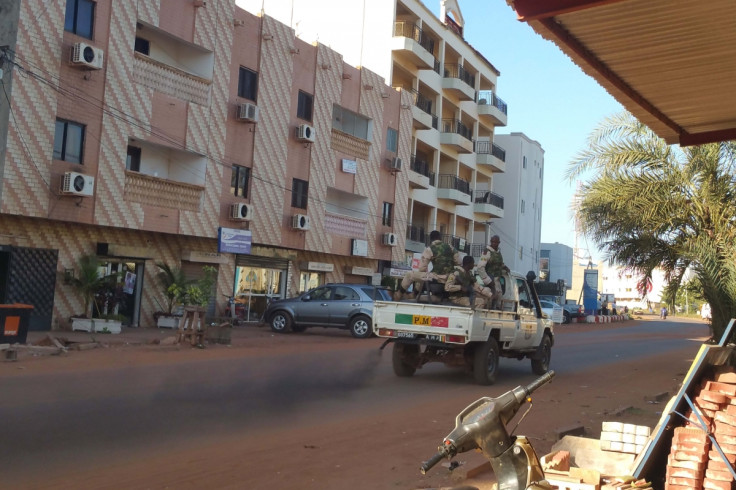 11:06am A hostage who has been freed by security forces has told France 24: "I've seen many bodies. It's horrible".
10:57am Foreign Office says it is aware of the situation Mali and is in touch with the authorities following the attack on the hotel. "We are in contact with local authorities and urgently seeking further information following reports of an incident at the Radisson Blu hotel in Bamako, Mali," an FCO spokeswoman told IBTimes UK.
10:40am A French citizen and two Malians are believed to have been killed in the Bamako attack, AFP reports.
10:35am UN forces were reportedly having a function at the hotel, according to several sources.
10:30am Security forces are allegedly storming the Radisson and a dozen hostages have been released, according to France 24.
Xinhua, China's state-run news agency, is now reporting that at least seven Chinese nationals are trapped inside the hotel. Six Turkish Airlines personnel are also in the hotel, according to Reuters.
10:29am Here are some pictures of the luxury hotel that has been targeted by alleged Islamist militants this morning: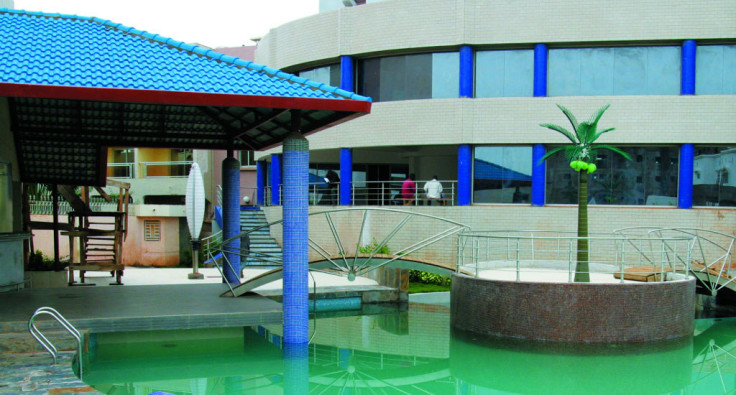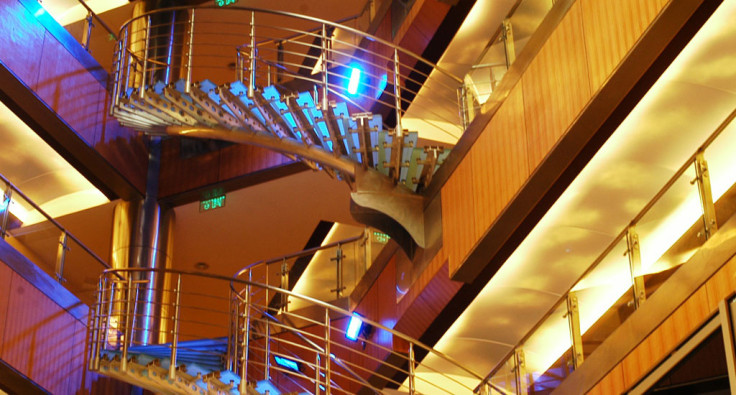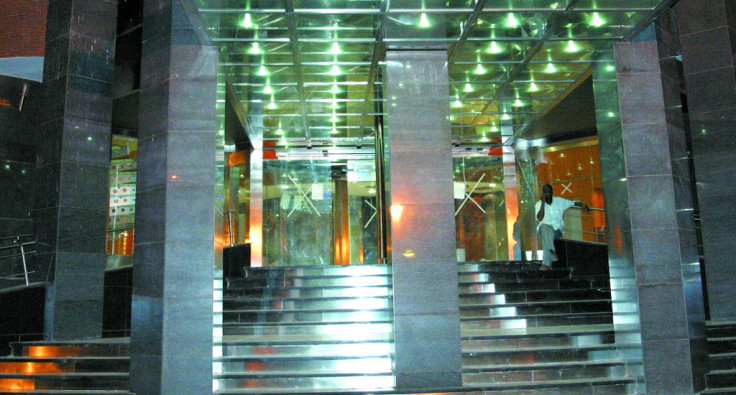 10:19am Malian President Ibrahim Boubacar Keïta is cutting short his visit in Chad to return to Bamako. The presidency confirmed on Twitter the hostage situation:
10:06am Gunmen are reportedly freeing some hostages who are able to recite verses of the Koran.
10:04am The hotel is very popular with foreigners and KLM, Air France and Delta Airlines all flew to the Malian capital from Paris on Thursday evening. There are unconfirmed reports that Air France crew is stationed at Radisson Hotel's seventh floor, where the gunmen are holed up.
10:00am A France 24 correspondent posted pictures of the scene:
09:58am As many as 10 gunmen stormed the building shouting "Allahu Akbar" (God is Great) in Arabic
09:55am Several Chinese guests are among those taken hostage in the Radisson Blu hotel according to China's state-run Xinhua news agency.
"A Chinese guest surnamed Chen told Xinhua via WeChat mobile app that he was among a number of Chinese guests trapped in the hotel," Xinhua said in a brief English-language report.
9:30am The Rezidor group released this statement about the Bamako hotel's hostage-situation:
09:00am The US Embassy in Mali confirmed the attack and asked all US citizens in Bamako to shelter in place. Private citizens are encouraged to contact their families.