Things have taken a turn for the bizarre on Twitter, after a man questioned where there was a "f******g tomato on the train" alongside an image of a man dressed as the popular fruit taking public transport.
Who could have predicted that things would take a sour turn when suddenly a new Twitter account – it is unclear whether it is the real tomato on a train or a wannabee– appeared and the user "tomato on a train" responded with "f**k off I paid for my ticket".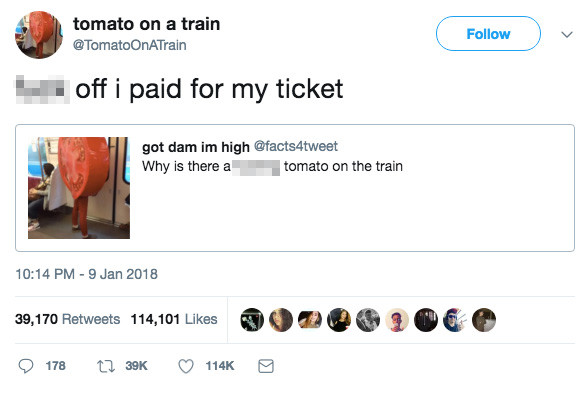 With over 33,000 shares and 100,000 likes, it seems social media is on side with the salad favourite.
Numerous culinary related puns quickly ensued. One user replied to the exchange with "he was late, he had to ketchup".
Another said "lettuce figure it out".
Others were more impressed by how quickly someone created the account to parody the first tweet.
One user put: "This is why I love Twitter."
Tomato on a Train currently has just over 600 followers and can be reached here.