Biracial couple spark a torrent of response after post on fighting racism goes viral: 'You're not alone'
John Struthers, a Scottish professor, shared a snap with his wife from the Queen's garden party in Edinburgh.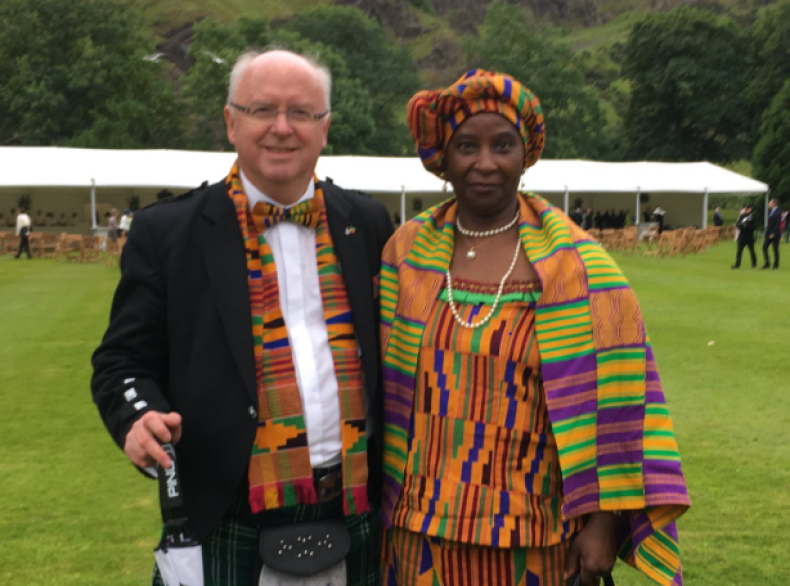 After a biracial couple's honest account of their 40-year-old marriage withstanding racial discrimination and stigmas went viral, social media users flooded their post with emotional responses and stories of their own.
Taking to Twitter, a Scottish professor recently shared a picture with his Ghanaian wife, both dressed in traditional Ghanaian Kente cloth. Alongside the image, he talked about their relationship and how they fought racism over the 40 plus years they have been together.
John Struthers, an Honorary Consul for Ethiopia in Scotland, met his wife Justina at the Glasgow University in the 1970s, and despite all the critical comments over the years, he says they haven't "wavered".
In fact, their heartwarming post resonated with several other interracial couples on Twitter.
"I thought I would share," the 64-year-old professor began his post, "We've had disapproving looks, 'we are full', 'is that your wife' and many more actions questioning our relationship over the last 40+yrs.
"We haven't wavered!" Struthers wrote, followed by an apt hashtag, #Diversity. "The best way of fighting racism is living your life, standing tall and educating."
Standing next to each other, the couple's picture — taken at the Queen's garden party in Edinburgh in July — has not only received thousands of likes and retweets but also opened up a line of conversation. Following Struthers suit, in fact, many users have since then posted pictures and stories of their own interracial love.
"Beautiful photo. Thank you for sharing and initiating a wonderful conversation. Here's us on our wedding day 3 years ago, and together 29 years in February. #diversity," wrote one user, sharing a black and white snap of his partner.
He followed up with another picture, adding, "And here's us 29 years ago. Just this month we got asked if we meant to book a double room. *sigh* We have never compromised who we are. #diversity."
"My aunt and uncle lived their lives facing this. Sadly they even decided not to have children (in the 50s/early 60s) because of the stigma that the child would face. So sad that the world has not moved on from this completely," a second user commented.
Another user shared alongside a photo, "He came from Trinidad at 17 to serve in the RAF. Represented Great Britain at athletics and still was not comfortable to bring a child in to the world with my aunt Vera (with her right now). One of my absolute heroes and a great influence on me."
"You are not alone we have had all sorts of things said to us. Now I know that people who are not happy in their own lives spend time analysing and pecking at what they can't have," added another.
While the internet is pouring their heart out, Struthers says the "responses to the tweet have been heart-warming and overwhelming."