A camera caught the moment a man was kicked through a top-deck window of a double-decker London bus and crashed to the street below.
The victim was kicked in the stomach so hard that he went through the window and broke his back on impact. The fall left him paralysed and doctors were uncertain whether he would ever walk again.
The incident was captured by CCTV on board a 254 bus, which was travelling behind the victim's bus on the Seven Sisters Road near Finsbury Park in north London.
The bus driver described how he looked out of his near side mirror to "just see a body drop".
The film was shown on the BBC2's The Route Masters: Running London's Roads. It examines how police investigate crime on London's buses and transport networks.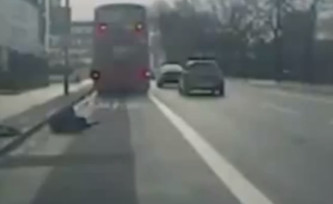 Named on the programme as Gillian, the man's sister, said: "I'm still finding it hard to believe that someone's actually injured my brother in this way.
"At the moment they can't pinpoint a time for his recovery due to the fact that his back was so badly broken and his spinal chord was damaged. He needs to recover from his broken back before we even know if he's able to walk again.
"He's paralysed basically – he can't feel his legs, which is a life-changing experience. It's obviously going to be a bit hard for him."
Police are searching for a suspect.
The bus driver, identified as Elliot, described how passengers alerted him to a fight on the top deck of his vehicle.
He said: "I was driving along and then passengers came running down the stairs saying 'Driver, driver, stop the bus, stop the bus! There's a fight upstairs, there's a fight upstairs!'
"So I'm slowing down and as I'm slowing down I look in my near side mirror and I just see a body drop. So I'm thinking; 'What the hell was going on?'
"So I pull over and a lady comes up to me and tells me that someone's got kicked out of a window. I called the ambulance and police, told them what happened. I came out of the bus and I just see the guy on the street. He was in a bad way.
"He was trying to get up but couldn't. He had spinal injuries. Then after a little while he started coughing up blood.
"Luckily there was a nurse passing by so she stayed with him. But all the other passengers they were crowded around – I was trying to get information from them about what happened. I asked them 'where's the person that did it?' and they said he had ran off."
DC Tony Barun, a specialist safer transport command officer for the Met, told the BBC: "It's still shocking. Although we see violence every day, it's our bread and butter, it's still shocking to see something as graphic and violent as this.
"We know these window can be kicked out with a great deal of effort, but to see someone kicked so hard that he actually goes through the window and it pops the window out of its frame – I've never seen that before."