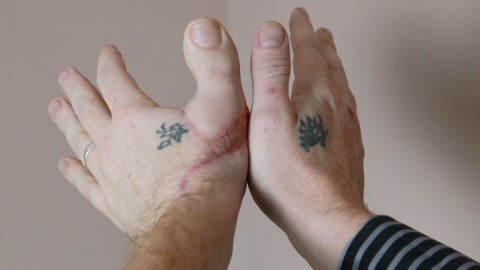 A man, who lost one of his thumbs in a carpentry accident, has had it replaced with his big toe in one the world's most unusual reconstructive surgeries yet.
Surgeons suggested that James Byrne have his dominant grafted to his left hand after attempts to sew his original thumb back on failed.
Despite months of treatment, including using leech, blood refused to flow through his thumb rendering it useless.
The 29 year old father-of-one's newly healed digit is now on it's way to working fully following his successful operation at the Frenchay Hospital in Bristol in September this year.
Although he had to sacrifice his big toe to get his new working 'thumb' Mr Byrne was reassured by doctors that losing a toe would only affect his balance in the short term and it would eventually return.
The paver from Bristol, who has now nicknamed his unusual thumb 'Toby', told the Daily Mail : "I never thought it would work but the surgical teams and nurses have done such a fantastic job. The care has been amazing,'
'I can't bend it yet but I hope to be able to do so soon. It rotates and I can give it a good wiggle.
'I am so, so pleased that I had it done. It is just such a relief that I'll be able to get back to work soon,' he added.
However, My Byrne admits that his new thumb had received some mixed reviews since its debut.
"Some think it's really funny while others are a bit disgusted by it," he said.
"When I meet people, they ask "what did you do to your thumb, it's so big and swollen". They can't believe it when I tell them it's actually my toe instead."
He hopes to return to work in the New Year and after completing intense physiotherapy to regain full use of his thumb.
Frenchay Hospital in Bristol is a regional micro-surgery centre and has an international reputation for such complex surgery.
Without the operation, My Byrne would have struggled to do day to day things such as holding a pen or opening a door. He would have eventually been forced to give up his job as a paver as the thumb is the dominate digit.