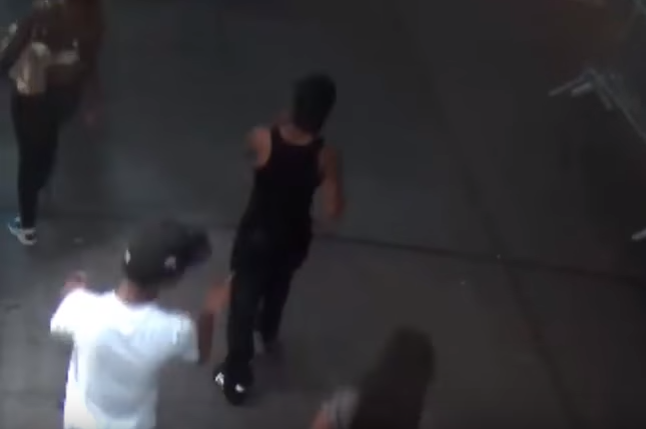 A British woman dressed in traditional Muslim clothing had her clothes set on fire as she shopped on Fifth Avenue in New York, police said on Monday (12 September).
The 35-year-old Scottish woman was reportedly window shopping on East 54th Street on Saturday (10 September) when she felt heat on her arm. She managed to pat the fire out with her hands and was not injured.
Police said that as she looked up, she noticed a man standing with a lighter in his hand. She was left with a hole about the size of a two-pence coin on her sleeve. The man slipped away down a side street.
"She saw [the suspect] pull a lighter away and walk away," an unidentified police source was quoted as saying by New York Daily News. "He doesn't say anything."
Police have released surveillance footage of the suspect, who was dressed in a black tank-top, trousers, black trainers and a backwards baseball hat. Authorities are investigating the incident as a possible hate crime. No arrests have yet been made.
The attack was condemned by the Council on American-Islamic Relations (CAIR), which urged the mayor of New York to "add resources for the investigation of hate crimes." The group added that the suspect remains at large in a statement.
"We are clearly seeing a spike in attacks on individual Muslims and Islamic institutions in New York and around the country, which should be of concern to all Americans," said Afaf Nasher, the director of the group's New York chapter. "It is time for the mayor and the NYPD to put forward the necessary resources to investigate and prevent these attacks on the Muslim community."
The latest assault comes just days after two Muslim women were attacked as they pushed their babies in strollers in New York. Emirjeta Xhelili, 32, reportedly tried to rip their hijabs off and punched the women in the face while screaming: "This is the United States of America, you're not supposed to be different from us," court documents allege.
Xhelili was arrested and charged with hate-crime assault, according to the Washington Post.