Man shot during violent anti-Trump protest in Portland, Oregon
Portland Mayor Charlie Hales condemned a faction of violent protesters as 'anarchists' after the protests.
A man has been shot during an anti-Trump rally in Portland, where demonstrations against the new President-elect led to violent clashes between protesters and police. Police in riot gear clashed with angry protesters in the third day of street protests following the election of the billionaire property magnate.
Portland Police claim that projectiles were thrown by crowds before they responded with tear gas and stun grenades. A shooting was later reported on the Morrison Bridge, in the centre of the city, with the force releasing a statement afterwards confirming that a man was shot during the protest march and that the victim's injuries are non-life threatening.
The force cleared the bridge and set up a crime scene guarded by officers. Officers have not identified the victim but said that a confrontation occurred between the occupants of a grey or silver sedan car and a protester in the early hours of Saturday 12 November.
An eyewitness to the shooting, local community activist Cameron Whitten, 25, told OregonLive that protesters were moving over the bridge when a car stopped and an armed man got out of the car and began shooting in the air before shooting a demonstrator in the lower body.
The report says: "The suspect got out of the vehicle and fired multiple times, injuring the victim. The suspect fled." Police say they believe the suspect to be an African-American male, late teens, 5'8", thin, wearing a dark hoodie and saggy blue jeans.
The march in Portland was attended by up to 4,000 protesters, according to officials, with several people arrested. Speaking at a press conference the following day, Portland Mayor Charlie Hales condemned a faction of the anti-Trump protesters as "anarchists".
He called for people to stay peaceful in the "spirit of Portland". He said: "Last night, we had over 4,000 peaceful protesters making their opinions known on the streets of our city. But we also had some anarchists who hijacked that event and did terrible damage to our neighbours and friends.
"Let's exercise our first amendment right whenever we see fit, but let's do that in a way that's neighbourly, and in the spirit of Portland," Hales continued.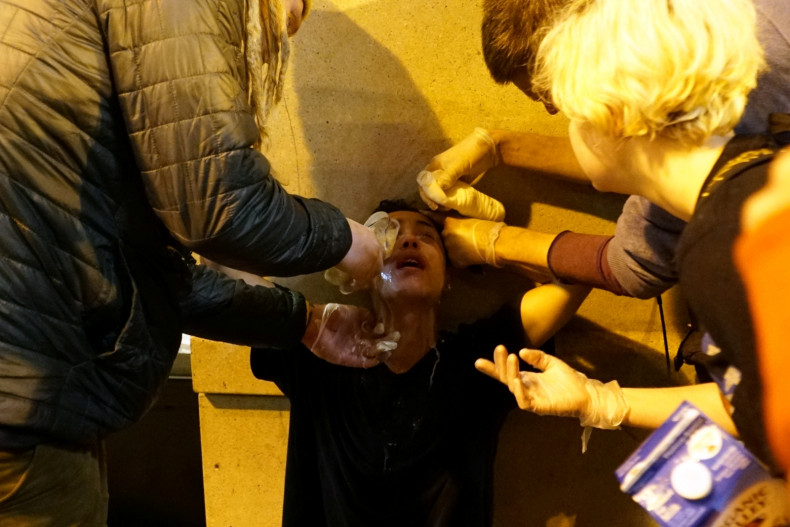 More than 200 people were reported to have been arrested in three nights of action in multiple cities including New York, Portland, Miami, Atlanta, San Francisco, Philadelphia, Oregon and other cities.
President-elect Trump had the previous day blamed the protests on "professional protesters", and the media "inciting" demonstrators. He said on Twitter: "Just had a very open and successful presidential election. Now professional protesters, incited by the media, are protesting. Very unfair!"