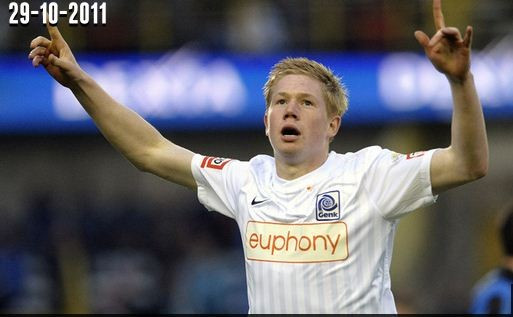 Kevin De Bruyne would fit well into the Chelsea squad, according to Genk manager Mario Been, with the youngster looking close to a deal at Stamford Bridge in the next transfer window.
De Bruyne has scored four goals in 12 appearances for the Belgian side this season, and produced a brilliant hat trick against FC Bruges as he took his side to a 5-4 win.
Chelsea have been very strongly connected to the youngster, as Andre Villas-Boas puts into place a youth focused system at Stamford Bridge. And while De Bryne hasn't come to an agreement with the club yet, Been believes that he would fit perfectly into the Blues' line up.
"His name is already in England. He's a great player. Very young and talented," Been said.
"I think he'd do great if he went to England - in the Chelsea squad."
Chelsea signed a host of young players in the last transfer window, with the side making agreements with Thibaut Courtois, Lucas Piazon and Romelu Lukaku to move to the club.
Courtois and Piazon are not currently in the Chelsea squad, with the former currently on loan at Atletico Madrid, and the latter planning to join the club next January when he turns 18.
But Lukaku has been given his chance to shine at Stamford Bridge, and so far this season he has made five appearances for the side.
Daniel Sturridge has also been returned to the club from a loan spell at Bolton, and the 22 year old has scored six goals and cemented his place alongside the likes of Fernando Torres and Didier Drogba.
Chelsea have often been known for preferring to purchase players who can bring the club immediate success rather than inexperienced youth, with Torres being a prime example, but after over seven years in charge, Roman Abramovich still doesn't have a coveted Champions League trophy in his cabinet.
And De Bruyn is another youngster who has caught Villas-Boas' eye, as the Belgium international continues to shine for club and country, and would signal even more of a shift on Abramovich's part towards targeting younger players who will be loyal to Chelsea and offer the club a long term plan for success.