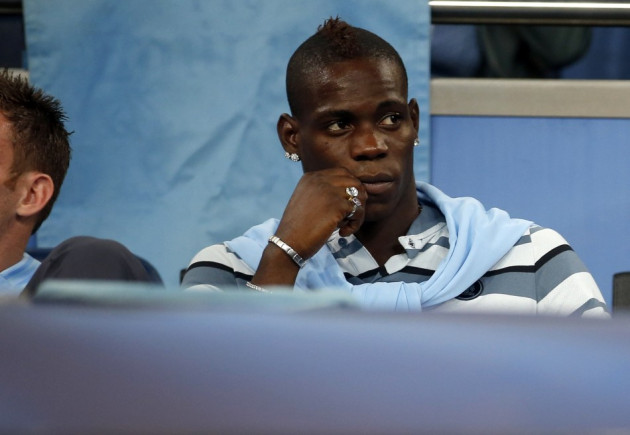 Smoking kills. Some of us choose to ignore the warnings, though, and Manchester City striker Mario Balotelli is one of them. Understandably, the 21 year old Italian's tobacco habit is not something his manager, Roberto Mancini, encourages. In fact, the former Inter Milan manager has tried, often, to persuade his star striker to quit... but the moody Balotelli, in this as in so many other aspects of life, will have none of any interference. Balotelli, therefore, has been set a challenge!
"If Mario wants to smoke, it's his problem. But if he wants my opinion, it is better that he quits. But if he smokes 10 cigarettes a day and scores two goals every game, then that's better," Mancini was quoted as saying.
Meanwhile, Balotelli may also have to get used to being overlooked for some games, even if he is fit and ready to play. The striker travelled to Spain (to play La Liga champions Real Madrid at the Santiago Bernabeu in the Champions League opener) but was not even named on the substitutes' bench; Argentine striker Sergio Agüero was preferred. Initial speculation suggested Balotelli was being punished, yet again, for breaking club curfew rules, yet again, and partying, yet again. However, Mancini has moved to dismiss any such report and he used the matter to emphasis that his compatriot would have to learn to play (or not play) for the team.
"Mario was upset, but that's normal. I don't think there can be a player who doesn't play and is happy. But when you have five games in 20 days, like we do, you should pay attention to the consequences," Mancini said, adding, "But it's not true that Mario didn't play because he did something wrong during a night out. I don't go out at night with Mario, so I don't know what happened, but this is not true."
Nasri a Doubt
The bad news for Mancini, however, is that French midfielder Samir Nasri may not be fit to face former club Arsenal. The 25 year old attacking player suffered what is believed to be a hamstring injury during the game against Real Madrid and while the injury has been confirmed as being slight, Mancini is unlikely to risk the player for this game, even if it is against Arsenal.
City will face the Gunners, Villa and Fulham before returning to European duty with a home game against German champions Borussia Dortmund on 3 October and after the defeat in Spain, Nasri will be needed to ensure City do not slip away from the Champions League in the group stages, again.