Pep Guardiola is among the favourites to take the vacant managerial position at Chelsea, but is that a true indicator of what's going to happen?
John Terry, Glenn Hoddle and Harry Redknapp are also believed to be in the fray for the job, according to OddsChecker, as the football world continue to recover from the shock over the Blues' decision to sack Champions League winning-manager Roberto Di Matteo.
Roman Abramovich has made some questionable, hinging on mad, decisions before - his sacking of Carlo Ancelotti a season after winning the Premier League and FA Cup double is up there with the worst of them - but this one only drives home the theory that the Russian billionaire is a man whose attention span is shorter than a child with ADHD, and whose knowledge and passion for football beyond last week's win is as lacking as that of said child.
The oil magnate is such a recluse that he's left all of the media, fans and anyone vaguely interested in football to have to guess as to what his thoughts are when he sacks yet another manager, or buys yet another player for silly money who doesn't deliver.
And this time around, even the most faithful Chelsea supporters are having trouble questioning his sanity as he looks for a tenth gaffer in his time in charge of the club.
Should Guardiola step into the role, Abramovich will be one step closer to the Barcelona dream he seems to have for Chelsea, but his knee jerk reaction to take advantage of a lull in form by Di Matteo will likely prove to be the undoing in the Spaniard's move to Stamford Bridge.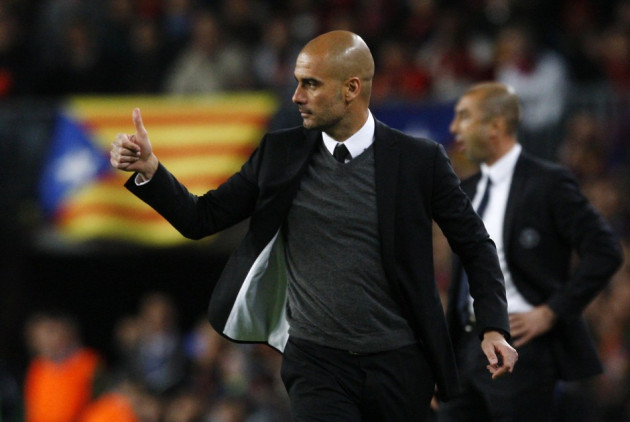 Chelsea and Manchester City are the English front runners for Guardiola should he come out of his sabbatical, but now City look to be very much in the driving seat to land the manager as he considers his next move.
The owners at City have made a brilliant case for the argument that foreign owners aren't necessarily the problem with modern and sentiment-free football - their work in the Manchester community, and in establishing a state-of-the-art youth academy with a mind to follow in the footsteps of the Catalan giants, has put them on the map as a club set for sustainable success.
Their unlimited spending is certainly nothing to look kindly on if you're hoping that football can return to its romantic, passionate fan-based ideals of the past. But even with this current climate of a fast moving managerial conveyer belt, the faith they've shown in Roberto Mancini when City have faltered could turn out to be the reason why the club go from being mid-table contenders to boasting a full trophy cabinet in the next 10 years.
While many will now claim that Abramovich's decisions in his time at Chelsea have been mistake after mistake, results and trophies would argue the opposite. In fact, the Blues have won silverware to match a much more stable Manchester United side in the past nine years, give or take a title and FA Cup here and there. But the club are yet to achieve a status which the likes of United, AC Milan, Juventus and Barcelona have enjoyed in recent decades - and that is a club which is completely dominant throughout Europe and in their own country for longer than just a season, and which is envied by sides around the world as a result.
And for a manager who has achieved that status - Guardiola - the idea of joining a club that has shown time and time again that it has no long term vision will certainly be an unattractive one, particularly when the Spaniard can pick and choose where his next destination lies.
City, on the other hand, are displaying the opposite sentiment to Chelsea, and their recent appointment of former Barcelona men Txiki Begiristain and Ferran Soriano to the backroom will no doubt encourage the 41 year old to set up shop at Etihad Stadium.
Chelsea and City are two clubs who seemingly come from the same circumstances; an owner not from this country, with a load of cash to spend, and plans to build the side to suit their winning direction.
But while the former are now a very unattractive prospect for one of the world's most revered managers, the latter is looking like a very good option.