The representative of Lazio star Hernanes has indicated his client would be open to an approach from Manchester City.
The 27-year-old attacking midfielder has been one name linked with a move to the Etihad Stadium ahead of a summer where Roberto Mancini is expected to strengthen his side after a relatively disappointing season.
On the brink of surrendering their Premier League title following an abysmal Champions League campaign, Mancini is expected to restructure his attacking options this summer, with early indications suggesting Samir Nasri's time at the club may be close to expiring. The free scoring Brazilian, who has been capped ten times at international level would apparently be interested in a move to Mancini's side, according to his agent Joseph Lee.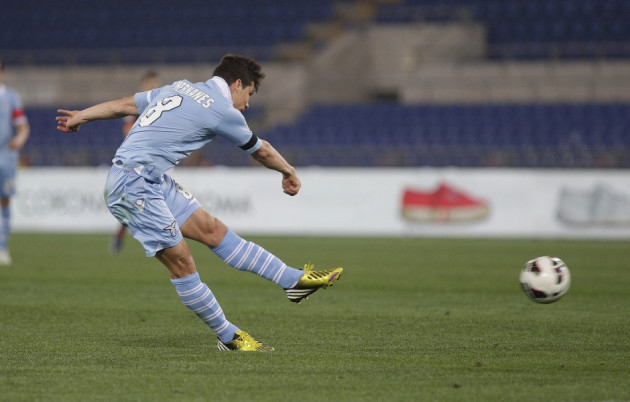 "These rumours and for now I do not wish to comment on them," Lee told www.lalaziosiamonoi.it. "City are a top club at world level and Hernanes loves the Premier League. But I have too much respect for Lazio to say anymore."
"We discussed many things with Lazio president Claudio Lotito in September, including his contract, but the situation has remained unchanged since then. There are no other meetings planned.
"What would happen if an offer came in from Manchester City? I repeat, for now we are talking about rumours, but if it did arrive then Lotito would be forced to call us."
In an effort to boost their chances of signing the former Sao Paulo star, City are also prepared to offer the services of their prolific young forward John Guidetti in addition to a fee of £15 million, ESPN suggest.
City's reported inclination to offload Guidetti, already capped at full international level at 21, would suggest the club's desire to bring Hernanes to the Etihad is particularly strong. The forward is yet to make his first team appearance for the club, but his superb loan spell at Feyenoord last season where he scored 23 goals in 20 appearances certainly proved to be an impressive warm up act.
Should the opportunity to join Lazio appear, however, Guidetti is likely to jump at the chance to join the Serie A club, having previously declared his admiration for the league and the city of Rome.
"My grandfather was Italian. We originated in Ferrara and I've been coming to Italy on holiday for years," the Swede told Corriere dello Sport last summer.
"The bind is strong and my family still has an apartment in Rome. I've always dreamed of playing in Serie A one day."