Roberto Mancini has told Manchester City that dropping further points could cost them their Premier League title, after the reigning champions were held to a 2-2 draw at home by Liverpool.
The Etihad club needed Sergio Aguero to score a superb individual goal, from a very tight angle, to salvage a point. However, despite the Argentine's intervention, the result leaves City nine points behind leaders Manchester United, who beat Fulham 1-0 on Saturday.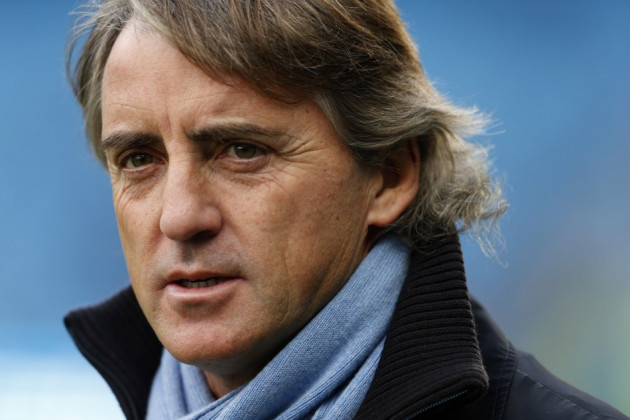 City made up an eight-point gap on United in the final weeks of last season, and Mancini told reporters after the Liverpool game that his team has the ability to catch the leaders again this time around.
"The title isn't over, no...Absolutely, no way. Why? Because of last season, and also for the way we have played this season. In two games, it could open up again. But we probably need to win most, if not all, of the games. But this is football, it is not finished.
"I think like last year, we can get back in it. I don't see why this can't happen again this year. Last year, we caught up eight points in six games, this year we still have 13 games and (United) still have the FA Cup and Champions' League. It is not finished."
City's first team will soon be boosted by the return of former Barcelona midfielder Yaya Toure. The Ivory Coast international has been unavailable for recent matches because of national commitments at the Africa Cup of Nations, however his country's elimination by Nigeria means the 29-year-old will give the champions a much-needed impetus in midfield.
Meanwhile, Mancini admitted to being less than impressed with the referee's performance in Sunday's game. The ex-Lazio and Inter Milan manager said play should have been stopped when Bosnian striker Edin Dzeko was injured. However, play was allowed to continue and the Reds scored soon after.
"I think the draw was the right result because Liverpool played very well, especially in the first half. We didn't play well today but one or two decisions didn't go our way. About 15 seconds passed while Edin was still on the floor and we didn't know if he was badly injured or not, but there is nothing we can do about that. Liverpool played on but it is up to the referee to stop play," Mancini said.