Manchester City manager Roberto Mancini has admitted the English champions made a mistake by not signing a defender in the January transfer window. The Italian boss has suggested it could cost them their Premier League title this season.
The Etihad club trail cross-town rivals Manchester United by 12 points at the top of the table and face an early trip to Goodison Park in their weekend fixture. United, meanwhile, host relegation-threatened Reading at Old Trafford.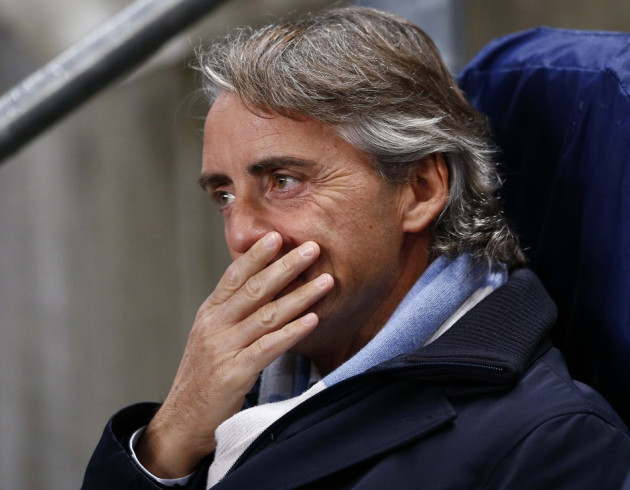 Despite having the best defensive record in the Premier League, City have at times struggled, following prolonged injuries to right-back Micah Richards and, crucially, captain and centre-back Vincent Kompany. The Belgian international picked up a calf injury in the FA Cup tie against Stoke City in January.
Mancini now admits City ought to have signed a centre-back to cover for Kompany, particularly since they faced similar problems last season, at almost exactly the same stage of the campaign.
"We made a mistake. We knew the problem and we were four days to the close of the market. Probably there, we should have bought another defender. We tried. We had a chance, but we didn't think Vinny would stay out for 45 days. This was the big problem. Also, last year, he had this problem for a month and didn't play," Mancini told the Telegraph.
Mancini dismissed earlier reports that Kompany may be ruled out for the rest of the season and said he expected his captain to be available by the end of the month, when City face Newcastle United.
"Vinny has started to run. We hope and think he will be ready for Newcastle [on 30 March]. He started training with us four days ago. His calf was tired, but it is no problem. We don't want to take a risk at the moment. We have one game then the international break, so it is better that we wait," the boss explained.
Finally, when asked if he expected Kompany to return to the level of earlier performances, Mancini said he was confident the defender would return to recover his position as one of the best defenders in England.
"The calf is a dangerous injury. If you don't recover well, you can have a problem for four, five, six weeks in a row. After the break, I think he will come back," Mancini concluded.