AC Milan have failed in their bid to take Edin Dzeko on a season-long loan as Manchester City make it clear that they want £25million for the services of the striker.
Goal.com has reported that Manchester City are not interested in allowing the player to leave on-loan and instead want to secure a permanent transfer for the striker who cost them £27million last summer.
The 26-year-old is no longer viewed as an important member of the first team and it seems they are determined to sell the forward in order to free up funds for new signings before the end of the transfer window.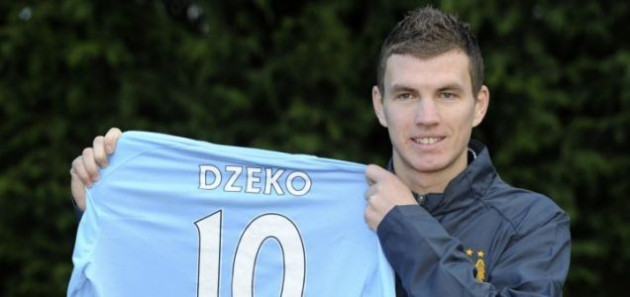 AC Milan had offered to pay the full £170,000-a-week contract that Dzeko is on at Manchester City, but it seems they want him off their books completely and now hope that the Italian side will be prepared to meet their demands.
The Serie A side certainly have the funds available after selling Zlatan Ibrahimovic and Thiago Silva to Paris Saint-Germain for a combined fee of £50.5million earlier this summer.
Dzeko still has three years remaining on his contract at the Eithad and has admitted that he will assess his options at the end of the month.
"I always follow the Italian league and one day I would like to play in it. I also know that Milan has sold two of its best players," Dezko is quoted as saying on goal.com.
"For now I am a City player, but to be sure I will stay here I will have to wait until the end of the month. I'll see what happens, and if someone else comes in."
Manchester City beat Wolfsburg 2-0 in their last friendly and it seems manager Roberto Mancini believes Dzeko will remain at the club beyond this transfer window.
"It's pretty unlikely he will leave," the Italian told reporters," said Mancini. "He is right to say it's no fun being on the bench but when you join a big club then competition is normal."