Manchester City's FA Cup semi-final match winner Sergio Aguero has escaped a lengthy ban after The Football Association confirmed no action would be taken against the Argentine after he appeared to lunge two-footed at Chelsea defender David Luiz.
After Aguero, who scored what turned out to be the winning goal to send City through to their second cup final in three years, had fouled Luiz after tracking back into his own half, he jumped and kicked out two footed at the Brazilian international.
With referee Chris Foy, who had already awarded a foul to Chelsea, having seen part of the incident and The FA keen not to re-officiate decisions, the governing body have decided against taking any action with the episode not deemed to be exceptional.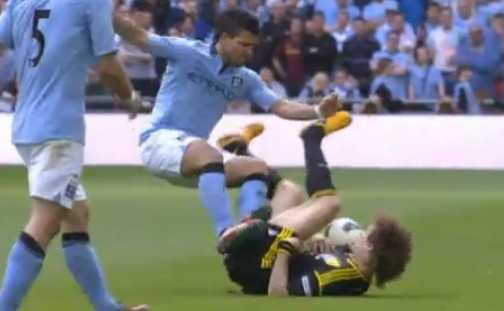 Such is the severity of the clash between the two players that The FA's refusal to act will swell scrutiny over the basis for retrospective action in the light of Callum McManaman's high challenge on Newcastle United's Massadio Haidara, which also went without punishment.
Aguero, who has scored 15 goals this season, could have faced a violent conduct charge punishable by a ban of at least three games which would have included the Premier League visits of Wigan Athletic and West Ham United, which sandwich the trip to Tottenham Hotspur.
"Many people say to me about this tackle," Luiz said. "I didn't see it because it was in the back of me. I cannot speak about that. I felt it a little bit.
"Agüero is a great player and I think he needs to be honest with himself and say: 'I don't like to do bad tackles, I don't like to do that.'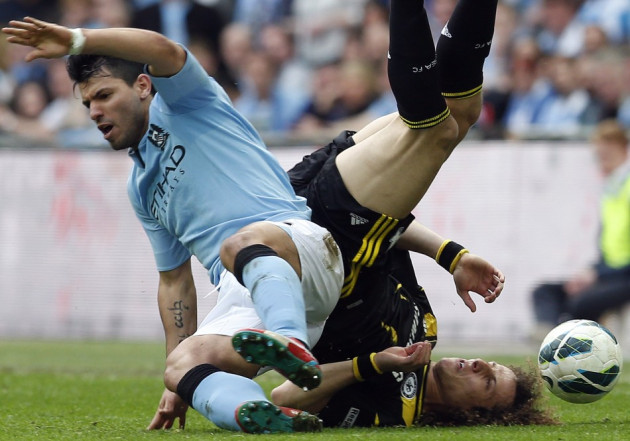 "I forgive everyone in my life. People are happy when Agüero is scoring goals, doing things in the game. Many people have said to me: 'Sorry this is not me and not good for the football.' Many kids see the game, watch the game and want to see good things and not bad things."
When asked whether he would apologise if in Aguero's position, the Chelsea defender added: "Of course, I would apologise to everyone. I want just to show people good things - football is beautiful when you play games like that.
"Both teams tried to win, both created opportunities and tried good things. Sometimes in the games people have five seconds, be angry and do things you don't like to do.
"I think that. I never saw Agüero do bad tackles on other players. I think it was five-second angry and I forgive him."