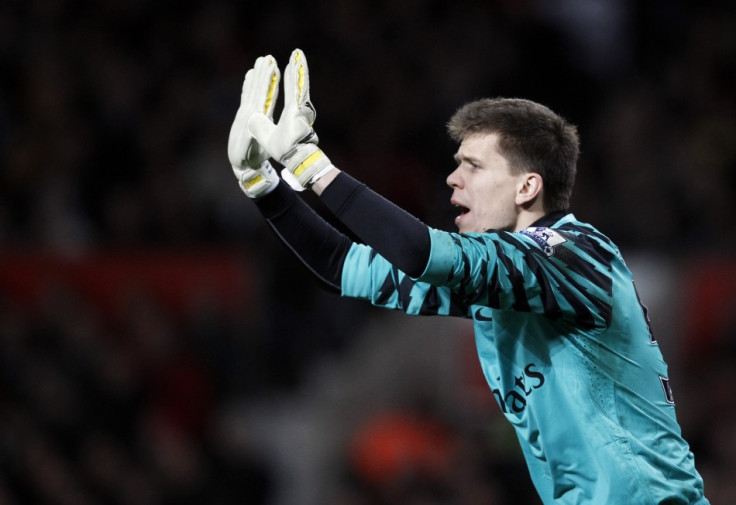 Arsenal number one Wojciech Szczesny believes Manchester City have spent too much money in their quest to become the Premier League's best side.
Arsene Wenger's frugal Arsenal succumbed to Roberto Mancini's richly assembled Manchester City side in Tuesday night's Carling Cup tie at the Emirates, in a match that underlined the two Premier League club's contrasting approach and ethos.
The aforementioned Arsenal manager blooded a number of the Gunners' talented young players such as Alex Oxlade-Chamberlain, Francis Coquelin and Emmanuel Frimpong, whereas Mancini started Eden Dzeko, Samir Nasri and Adam Johnson, all of whom cost City well in excess of £50 million.
Although their recent financial losses for the most recent financial year nearly exceeded £200 million, Manchester City's lavish spending is already having a positive effect on the pitch as their victory over Arsenal and five point gap at the summit of the Premier League suggests.
Despite the obvious advantages to Manchester City's approach, the aforementioned Arsenal goalkeeper believes Arsene Wenger's austere methods can deliver the club an elusive trophy this season.
"Do (Manchester) City spend too much money?" The Arsenal star told The Sun.
"I say they do but it doesn't guarantee success."
Speaking to Arsenal's official website, last month, the Polish international was adamant the club had everything in place to challenge for the Premier League.
"I completely believe in this club and if we win every single game like we have been recently then why not?" He said.
"Obviously the mood has turned around and so has the belief. We believe that we can win every single game and if we can do that we are confident.
"I think it's all about the spirit in the team now. There's obviously been a few good results and we've got our confidence back.
"I think we just need to keep going and show everyone that we can be consistent.
"I think we still have a point to prove. We've picked up a bit of form and a few good results but we still have something to prove.
"I think you have to judge us over the course of the season. If we can keep going as we have been in the last few weeks then we will show people how good we really are."
Szczesny also believes Manchester City will inevitably drop points at some stage in the season.
He concluded: "They (Manchester City) will drop their form at some point and I hope we can use that to our advantage."