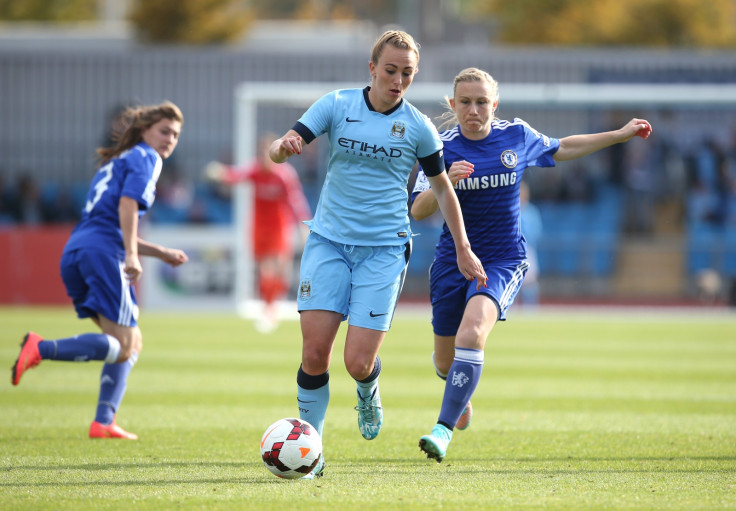 Manchester City Women's footballer Toni Duggan felt obliged to issue an apology following her part in an apparently controversial incident that followed the men's galling 4-2 derby defeat on 12 April.
"I would like to apologise to all MCFC fans for the error of judgement I made last night," she posted on her Facebook page. "I now appreciate the significance of my actions and can assure everyone connected with Manchester City that I am proud to represent the club and wear the shirt."
But just what was the transgression that warranted her to publicly express such regret? Had she taken leave of her senses in the aftermath of her own side's FA Cup quarter-final victory over Birmingham and engaged in some form of objectionable behaviour?
Did she decry any of her fellow players or bring City's reputation into disrepute? No, all she did was upload a photo to her Instagram account. Yes, a photo. That is it.
The picture in question, which has since been taken down, featured her and two others posing for a quick snap with Manchester United manager Louis van Gaal at the Dutchman's favourite local restaurant.
Rather predictably, this seemed to provoke a furious backlash from some supporters on social media, who were evidently still hurting badly from seeing City manager Manuel Pellegrini's troubled troops blow an early lead at Old Trafford and resignedly succumb to their sixth defeat in eight Premier League games.
The only thing Duggan is guilty of here, as far as I can see, is slightly iffy timing and it frankly beggars belief that any rational person could become so irate at something as trivial.
The extent of the negative attention she has received is excessive, to say the least, and the fact that she felt compelled to say sorry for such a minor and harmless error of judgment is rather disheartening.
Will we now see similar apologies from those who chastised her across social media? Somehow, I doubt it. That level of remorse seems to be utterly beyond those who feel the callous need to dole out such unwarranted criticism from behind a keyboard.