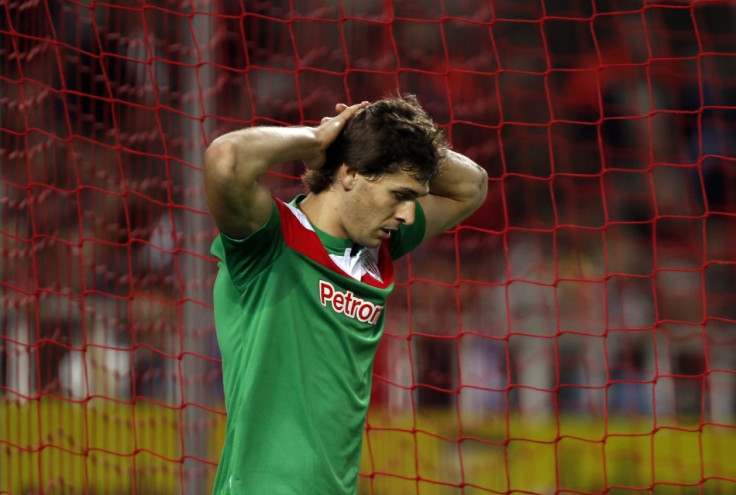 Spanish club Athletic Bilbao will not sell sought after striker Fernando Llorente for anything less than £30mn (his release clause) this summer, according to a report in The Sun.
The 27 year old is presently with the Spanish national team in Poland and Ukraine for the 2012 European Championships but has been linked to a number of high-profile clubs, including English champions Manchester City. The player's contract expires in 2013.
"He is a key player and we would not accept less, the supporters would not accept this," Athletic Bilbao president Josu Urrutia was quoted as saying by ESPN.
The Basque striker has also been linked to Spanish champions Real Madrid but has dismissed all speculation surrounding his future, claiming he is now focussed on Spain and the 2012 Euros.
"Now I am only focused on the national side, my situation with Athletic has not changed," the Daily Mail quoted Llorente as saying.
City, meanwhile, seem set to continue trimming their squad, ahead of UEFA's Financial Fair Play Regulations, which will restrict the amount of money clubs can spend on transfers and wages. The Etihad outfit could look to place 24 year old French midfielder Samir Nasri in the shop window.
However, the player himself has rejected any such notion and said he wants to continue in the Premier League and for City.
"I spoke with Brian Marwood and everyone at the club and they want me to stay in Manchester," the Telegraph reported Nasri as saying.
The midfielder, who is also on duty with his national team at the European Championships, could be in line to face Sweden in France's final group stage game and also spoke on the standing of the national team in his homeland.
"In France the image of the national team is really bad, so we've tried for two years to work on that. It's now 23 games that we're unbeaten and we're trying to show everybody something different, that we are not just like players with huge egos and big heads," the Guardian reported Nasri as saying.
"We want to show that we are close to everyone and we understand the fans. We want to give them pleasure and we want to do something special. Winning it will be difficult," said Nasri, according to a report in The Mirror.
"We are trying to build something to be ready for the World Cup in 2014 in Brazil but you never know what can happen in a big tournament. I don't think the fans have forgiven us already but we will do everything to be forgiven," he added.