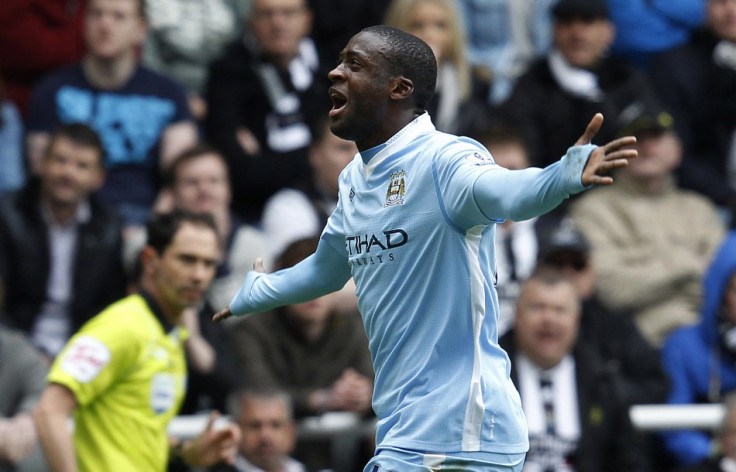 Manchester City midfielder Yaya Toure is reportedly ready to leave the Premier League champions in the summer, the player's agent claims. The Ivorian has been crucial to the club's success this season but his agent, Dimitri Seluk, claims the 29 year old wants a new challenge and is keeping tabs on a move away from Manchester.
"He has done all he can do at City and he needs new motivations. Toure could sign for many big clubs like Chelsea and Bayern Munich. Also, we would like to see Barca join the race," the Sun quoted Seluk as saying and adding, "I have not spoken to Barca but they know the situation. I do not know if Madrid are interested but Jose Mourinho has liked him since he [Mourinho] was at Chelsea."
Toure earns £260,000 per week at the Etihad and has three years remaining on his existing contract. Seluk's statements could be a shock to City supporters, particularly since the player is a fan favourite and was quoted as saying he wanted to help the club conquer the world.
Meanwhile, manager Roberto Mancini hailed his side's dramatic last-minute win against QPR on Sunday as a miracle. City went into the game needing to win but were left trailing 1-2 as the game headed into the final minutes; the club eventually turned it around, to win their first league title in 44 years, thanks to goals from Edin Dzeko and Sergio Agüero.
"It was a miracle. God gave a look at our game and gave us a hand. I remember looking at the clock and it showed the 72nd minute, when I glanced a second time it was the 89th. It seemed like a minute had passed. At that point I hoped for a miracle. Then what happened, happened. Football is crazy and extraordinary for this. I've won before at the death but the emotions I felt on Sunday were amazing," the Italian said, in a report by The Sun.
Mancini has now won two pieces of silverware in two seasons with the club and stressed winning was a good habit and that he was now targeting the Champions League.
"That's [Champions League] the next step. The first year was the FA Cup, the second year the Premier League and I hope it will be the Champions League in the third. We will have to improve a lot but I have a feeling we can do it," the 47-year-old stressed.
"Once you have started to win and you know how to do it, many things follow as a consequence. We have started a cycle but to win the Champions League it will take more. The lessons of this year will be needed. It will take time, patience and experience," he added.